Another Way to Look After Orphans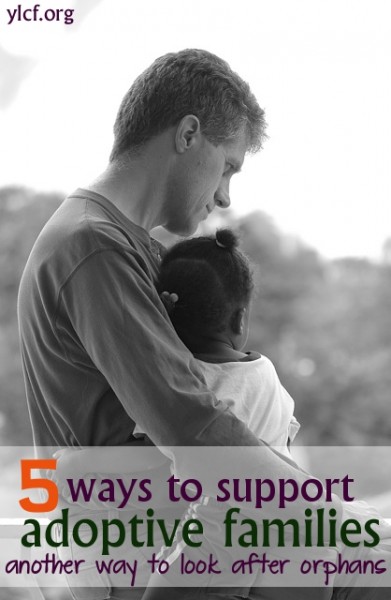 We settle into our seats at church, finally counting enough spaces for our large, mismatched family, and breathe a sigh of relief just before the music starts. As the music minister makes his way to the stage, a friend twists around and leans over her seat:
"It's official! We're adopting!"
This isn't the first time we've heard this. As an adoptive family, our friends and relations who make this big leap often come to us to share in their joy. Upon hearing this news, I am commonly struck with two emotions. The first is excitement. I am excited for the journey this family is about to take, excited for this unknown child who is being given another chance at a loving family, excited by the fact that the Church Body is reaching out to the fatherless.
It is then that the second emotion strikes. I fear that this family isn't prepared for this journey; I fear that this child won't adjust to this life-change and I fear that the Church Body won't support this adoption. Don't get me wrong, most Christians applaud adoptive families, but few actually go through with giving them the vital long-term support they need.
Here are a few tips on supporting adoptive families as they bring new children into their homes:
1. Give Financially
A few years ago, my parents were in the process of adopting four children when a woman from out of state heard of us and contacted my mother. She began sending us $50 a month and writing my mother sweet letters of encouragement. Five years after the children came home, we still find a card and check in the mail once a month from this faithful woman. She had nothing extraordinary to offer (not even great wealth), but what she chose to give has had an extraordinary impact on my family.
As this dear woman understood, the Bible is clear that we are to "look after orphans" (James 1:27), but that doesn't mean that everyone is called to adopt.
If you cannot adopt or foster a child yourself, consider sponsoring an adoption. There are many good-hearted couples that would love to take a child in, but are struggling financially. Contact an adoption agency or a specific family in your church who you know is trying to adopt.
2. Give Other Good Gifts
The last thing an adoptive family needs is more baggage, neither emotionally nor literally! There is often chaos in the home during adoption, such as when my siblings came home two-by-two with very little warning. A sack of secondhand items to be sorted and distributed would have been more trouble than anything. However, do consider asking if there is something you could provide. Bringing meals, diapers, new or gently used bedding, clothing or toys can sometimes make a big difference, especially as adoption through the foster system can often be an abrupt event, nearly impossible to prepare for. Ask before you bring anything — that way their specific needs can be in the forefront of your mind when you are shopping for or collecting items.
3. Babysit
Adoptive families sometimes have difficulty in finding babysitters for their children. This could be because of the number of children or because of special needs, but either way, parents all need a break once in a while! Offer to babysit so that the parents can go out on a date. Don't be intimidated; do feel free to bring a friend. Don't try to get personal information about the children; do ask for specific instructions. Adopted children are often sensitive and needy, so go at the job with an open mind. This is a beautiful ministry to the children and parents!
4. One-on-One
It is common for adoptive families to have one child who simply does not fit in. This is not necessarily anyone's fault, but is an understandable occurrence in adoption. Sometimes this child has mental special needs, and though well-loved, requires so much hands-on assistance that the family becomes exhausted without any time spent apart from that child. Other times the child has behavioral issues. Many adoptive children act up primarily around their family and behave much differently around strangers or friends. Taking this difficult child away for a while can work wonders for a family's emotional well-being. Bringing them to your home or out for a movie and ice cream not only gives them the attention they are ultimately craving, but allows the remaining family members to have a relaxing evening.
5. Pray
Do not forget to lift these families up in prayer — before they adopt, during their adoptions and for the years to come! The Lord knows the hearts and needs of both parent and child better than any family counselor ever could, so ask Him to bless His children as they answer His call to "look after orphans."