A Lifelong Love of Learning
Recently, I was chatting with an Armenian-American friend about the foods I enjoy in Israel. When she heard I'm a fan of tabouleh salad, she invited me to her home to eat some.
And there I learned the lesson any down-home American cook knows. Just as every woman's potato salad or apple pie is just a little bit different, so tabouleh in my Armenian friend's home is different from the same dish I had in Israel…or even from the same dish my friend eats at her mother-in-law's home. Yes, they all have cracked wheat and fresh parsley, and probably diced tomatoes, with a lemon juice and olive oil dressing. But some have fresh mint. Some have cucumbers. Some cooks insist on white pepper for seasoning; others are not so fussy.
Can you guess what I'm going to say? I don't think there is an exact recipe for a lifelong love of learning. However, I can tell you how God put mine together.
I've had a patchwork education spanning public, private and homeschooling; four states, and three countries.
Once upon a time, I was a shy elementary school student. My teachers had trouble getting me to speak up in class, or to launch forth on the kickball field. And long division frequently reduced me to tears.
But my teachers were kind, and I had great examples in my family. No, I never met my grandpa, the one who had such an insatiable thirst for learning that he'd read the encyclopedia, the one who challenged his children to bring a new fact to the dinner table every Saturday night. But I had his legacy in my daddy, who seems to find no topic too dull to talk about, who finds practical, intellectual and spiritual growth equally exciting to pursue.
And my mother? She loved learning along with us all the things she hadn't heard in her public school, like history from a Christian perspective and science with an eye to the details of God's creation. She took us to the library like it was the candy store, looked forward to her own reading time, and read aloud to us. No wonder she had a houseful of bookworms.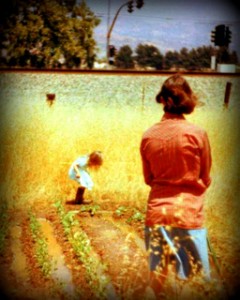 We had regular family Bible time (yes, there were moans and groans from us kids), but habitual seeking-out of meaning in the text, and the discussion that went with it: well, it trained our minds as well as our hearts.
I saw my parents learning and growing and changing. And teaching us by example, as they willingly traveled with an ever-growing family, to keep our sense of adventure keen, but our roots down deep in Jesus.
Once upon a time, I was a lazy middle school student. Cozy in my little homeschooling classroom (frequently my own room, in the company of Mr. Saxon's textbooks and Mr. Vivaldi's music), I came to terms with math. I sailed along as slowly and quietly as possible.
But just as I hit ninth grade, our little church started a little one-room school. Think nine students, ages six to sixteen in one big room, with two tiny study rooms to one side. I was in for a rude awakening.
Thanks to our assistant teacher, I had a rigorous introduction to the French language and American history. I failed to impress with my accent (or my attitude), and garnered my very first F. I learned that I could not coast: a worthy gift indeed. Thank you, Monsieur S!
No longer could I say "That's stupid" to new thoughts, because my main teacher loved to learn. No longer could I resist new challenges, because she wouldn't let me off the hook. I was still the slowest and glummest of math students, but I quickly caught her sense of wonder. Insects, the lymph system in the human body, the flamboyant personality of Eleanor of Aquitaine, the location of Bandar Sari Begawan: she was passionate about them all.
In retrospect, I can see that our school was a little bit unit study, a little bit classical, a little bit unschooling. And it really worked for me. We memorized poems, wrote poems, and even a play (we tied off every loose end in the plot with the wedding). We listened to Handel's Messiah while we filled in maps. When we needed to stretch, we played volleyball inside, using a balloon, or ran laps around the tables, or had acorn wars outside. We played geography games, sang songs in French, and wrote daily in our (extremely boring) journals. Even the high school students read children's biographies of numerous historical characters, until they became living, breathing people to us, not simply names on a timeline.
I learned from the classes I didn't take, but which went on in the same room. When the younger children studied Africa, I saw the Taureg headdress and sampled peanut soup. And like homeschool, I had the freedom to study my passions. I combed the nearby wood and roadsides for edible wild plants, wrote term papers on Israel, ancient and modern, and I learned to read in Hebrew. (What a eureka moment that was, when I first recognized a word and realized "Hey! I'm reading!")
When I was 17, we moved to Canada, and I returned to quiet study in my room for one more year. But the pressures and joys of the previous three years had begun to wake me up to God. And now, as I pushed myself to learn, I leaned on Jesus harder and found Him more real than ever before. What an awakening that was.
I read book after book, I sketched and painted and sewed and cooked and wrote and figured and (oh the irony!) began to enjoy helping my siblings with math, and algebraic equations began to take on a little of the beauty and satisfaction of a well-cleaned room, or an intricate dance.
Once I managed to complete my senior research paper, and had closed the last textbook, I went to my mother with tongue in cheek. "Quick, Mum, this is your last chance to teach me something!"
Wise woman, she gave me Proverbs 3:5-6:
"Trust in the LORD with all thy heart, and lean not upon thine own understanding: In all thy ways acknowledge Him, and He will direct thy paths."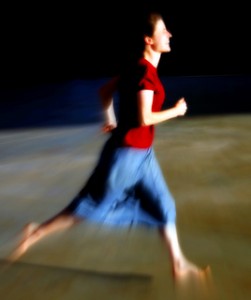 How I needed that! In the next three years, when I studied Bible, and learned how to accept the slow, gradual growth of my soul. In the handful of years that followed, when I flew up and down the east coast of the US, volunteering and studying writing, my assignments somehow making their way to me by snail mail. In the moment on the daycare playground, when I prayed, "Lord, I don't want to go to college, but I will if you ask. (I just hope you won't)." And on the day when I enrolled in a university in Israel. It meant more history and geography and Bible. It meant coloring maps and tromping hills and naming plants, reading and writing about real people who came alive to me. And it meant leaning on my Jesus.
What a roller coaster ride He has taken me on: one long adventure, full of surprises and lessons. I can't think of a better preparation for cross-cultural living, singleness, and my livelihood as a freelance writer and editor. Every day, I continue to learn to LOVE to learn. And I can, because I love and trust my Teacher.