The 5 Love Languages: Military Edition
Disclosure: This post contains affiliate links which won't change your price.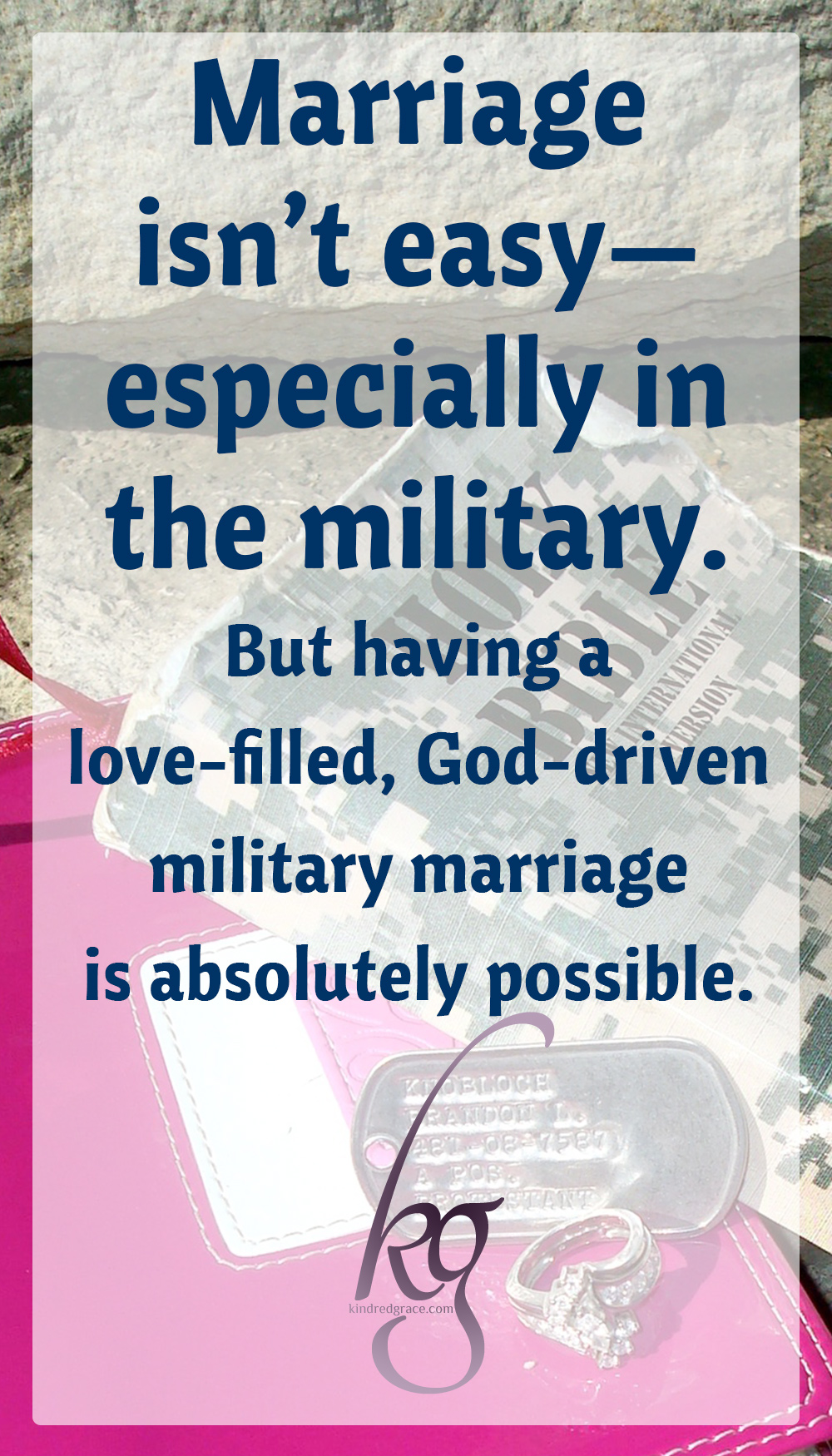 Marriage. It's one of the most rewarding yet also one of the most challenging experiences we can be called to in life. Paul even tells us in 1 Corinthians 7:28 that "…those who marry will face many troubles in life…"
So yeah, marriage isn't easy. And when you add the military factor to marriage, things can get sticky in a hurry if you don't have your feet on a solid foundation. Which is why we need all the Godly guidance, tools and encouragement we can get. The 5 Love Languages: Military Edition covers all those bases.
As an Army wife, this book was an answer to my prayers.
Don't get me wrong—I am so thankful to be married to a wonderful man, but we (obviously) are both sinners and recognized about 18 seconds into our marriage that it takes work.
My Beloved and I read the original book The 5 Love Languages a few years ago when he was home on R & R from Iraq. It was very insightful and added value to our relationship. But honestly, as we hugged "see-ya-later" at the Columbia, Missouri airport a few short days later, I was like, "Dude. His love language is Physical Touch. Mine is Quality Time. How are we supposed to speak it with an ocean between us?!?"
Now, right before another separated-by-duty situation, God introduced us to The 5 Love Languages: Military Edition. (Thank You, Jesus.)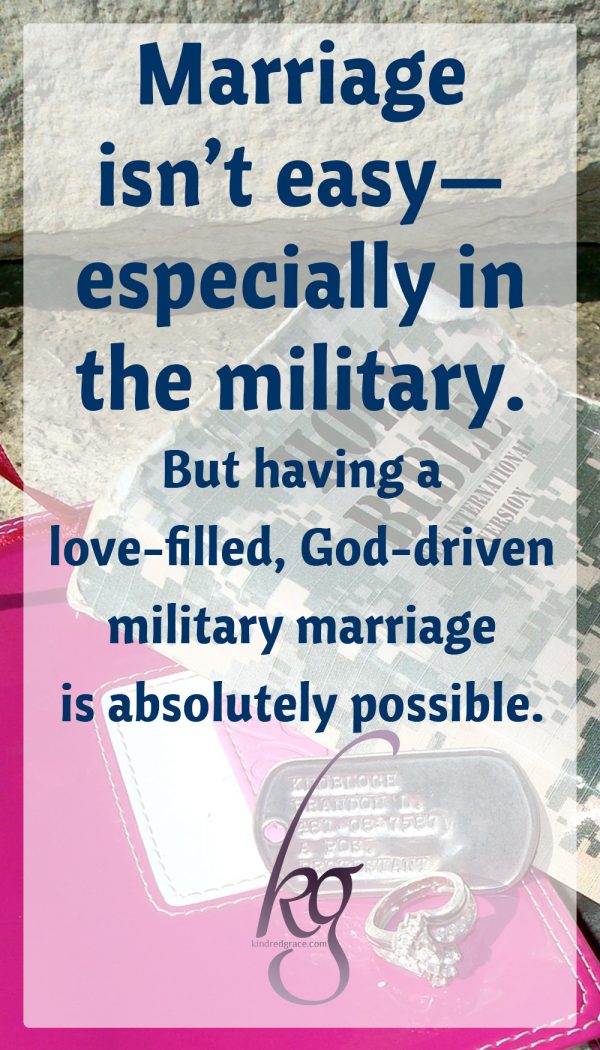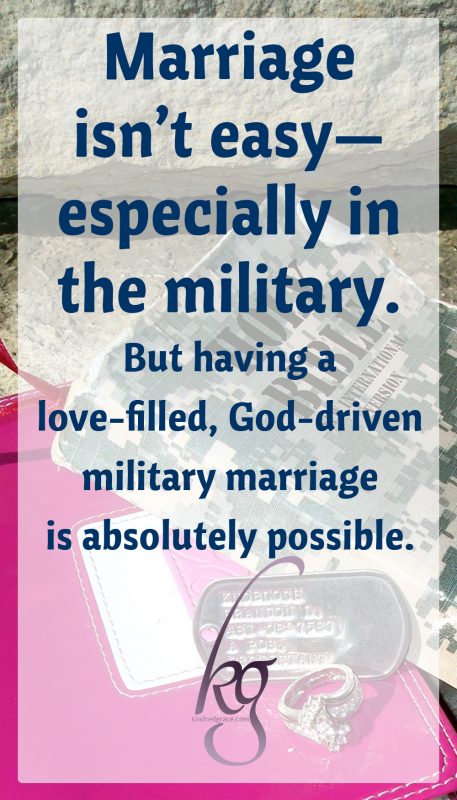 This wonderful book gives some great practical tips on just how to speak each other's language amid military marriage challenges.
At the end of the chapters describing each love language, the authors list ways that we can speak our beloved's language when we're in the military, dealing with distance, deployments, moving what seems like every 20 minutes, and the after-effects of war, to name a few. Several of the suggestions were super creative and will soon be implemented by yours truly.
As if I weren't already sold, the last few chapters sealed the deal. It was clear that the book had input from someone who has "been there, done that". Co-author Jocelyn Green's contributions were so appreciated. Essentially all of the military-related questions about love languages that I had still had floating around in my head were addressed. The authors did their homework and really showed how empowering it is to let the Holy Spirit work through our military marriage via our love languages.
Oh. And one more super cool part of this remarkable military marriage tool. At the very beginning of the book, there is a little box that encourages couples to read this book together. But it also acknowledged how difficult that can be during deployment when spouses are separated. Then it provided a web address, making the eBook version of the book available to any spouses that are deployed, at no cost. Although my Beloved is still stateside, this thoughtful offer touched me deeply. Clearly, the authors care about their readers and approached this project prayerfully with generous hearts.
Overall, this book is spot on. It is practical, encouraging and real when it comes to speaking our spouse's love language, even in our military escapades.
Just as Paul reminds us, marriage isn't easy—especially in the military.
But having a love-filled, God-driven military marriage is absolutely possible.
And the book The 5 Love Languages: Military Edition is one incredible tool to help you discover the secret to love that lasts — in the military or otherwise.
What things do you do to speak your spouse's love language? (Words of Affirmation, Quality Time, Receiving Gifts, Acts of Service or Physical Touch) How does that positively impact your marriage?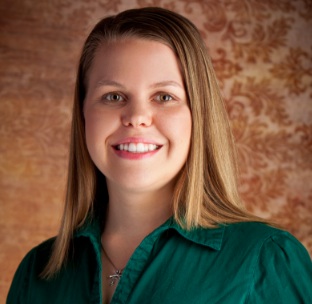 Sharita Knobloch describes herself as a Jesus-loving, pseudo-running, enthusiastically creative minister, writer, and Spiritual Leadership Coach. She blogs regularly and hosts a ministry called 7 Days Time to encourage others to find Jesus in the everyday and live in His light. She adores her family, specifically her Beloved U.S. Army Infantry husband Brandon, their ever-entertaining 7-month-old daughter Charis and chinchilla/fruit bat/mountain goat dog Justus. (If you saw a picture of him, you would understand.) Sharita enjoys reading, new journals with inky pens, and the occasional glass of wine in the bathtub. Connect with Sharita via her website or Facebook.