We picked his name four years ago.
My husband and I sat at the table and talked about having another baby. Our first child was eating solids and walking and talking like a big boy. We thought it would be nice to give him a little brother to play with. I was really close to my younger brother while we were growing up. I knew how great siblings could be.
So the name was chosen — Obed. I wrote it on the back of my midwife's business card and stuck it on the refrigerator. Two months passed, and I used that same card to call the midwife and recruit her services. It seemed that the little guy was on his way.
That pregnancy went well. We still owned all the baby stuff from my first son, so we didn't have to buy anything new except diapers. Then delivery day came and we got a surprise. The baby was a girl! My husband had to run to the store after my labor was over so he could get her something to wear that didn't have baseballs and blue trim on it.
Despite the shock we felt over the gender, we loved our new little addition. Our daughter turned out to be a sweet ball of fire that kept us laughing. We wouldn't trade her for anything. However, somewhere, deep down in my heart, I still wanted another boy. I thought that maybe when my daughter grew older, we would be able to "try again".
A year and a half passed. Our little girl was eating solids and walking and talking. I mentioned the possibility of having another child to my husband, but he vetoed the idea.
"You're too tired, Jessi. We should wait until you're stronger," he said.
I didn't like his verdict. I had been bitten bad by the baby bug and really wanted another son. So I started acting stronger and praying for the Lord to change his mind.
Eventually, we came into agreement on the issue and started trying for another child. We thought it would only take a month or two to conceive. That was the way it had been before with our other two children. I longingly looked at the name written on the card on my refrigerator every time I went into the kitchen.
"Soon, my little boy, soon…"
A month passed, then another. My cycle had been weird ever since my daughter weaned herself, so I bought a pregnancy test about every four weeks. It always turned up negative.
A couple more months passed. My husband and I looked at each other with worried expressions.
"Do you think something's wrong?" he asked.
"I hope not," I replied, holding back tears.
Something really was wrong though. As the months continued to come and go, I discovered that my husband's words about my failing strength were right. The stronger I tried to act, to prove to him that I was okay, the weaker I actually felt. I found myself just sitting and staring at blank walls. I began to suffer from terrible migraines and mood swings. Not to mention each period was longer and more haywire than the one before.
Finally, I went to a doctor. I had been bleeding for over two weeks straight. Obviously there was something very wrong with me. I had been doing my research and felt that I was suffering from hormone imbalance.
The doctor confirmed my self-diagnosis. I had severe hormone imbalance. Her prescribed treatment was to go on birth control for "the next year or more".
I walked out of that office shaking my head. I didn't want to wait that long for my son.
So I went home and called a natural doctor. She prescribed some hormone cream and sent it to me in the mail. Within a couple days, the strange bleeding stopped, although my periods continued to be erratically-timed and long.
More months passed. My hormone imbalance slowly ironed itself out. I still cried every time I looked at a failed pregnancy test, but I told myself that I'd rather have a failed pregnancy test than a miscarriage.
Then, one day, the results were not negative anymore. Tears of unbelief and joy fell instead of sadness and frustration. I used that card on the refrigerator to call the midwife and tell her the good news.
We kept a close eye on my health as my new pregnancy progressed. Everything seemed to be going really well. However, because of my formerly crazy hormones, we weren't sure how old the baby was, so the due date was iffy.
"Be patient, little boy," I would whisper to my baby-I-had-never-seen. "Mommy waited a long time for you. Obviously God wants us to wait a bit longer. You need to be patient."
Many of my whispers to him were actually whispers to my own heart though. I tried not to worry when, at two weeks overdue, my husband and I looked at each other.
"Do you think something's wrong?" he asked.
"I hope not…" I replied, holding back tears.
Nothing was wrong though. Finally the little one made his grandly painful appearance. Words can't express the way it felt to be able to look into my healthy son's dark blue eyes as I whispered, "I love you, Obed. You were worth it."
Now he's lying in my lap, giggling in his sleep, as I type this story. It's his story. I tell it to him every once in awhile, and I plan to keep telling it to him for the rest of our lives. God taught me a lot about trust and faith while I was waiting on this little guy. Although I didn't go through my classes willingly, or with the best of attitudes, I'm thankful now that He took the time and attention to teach me.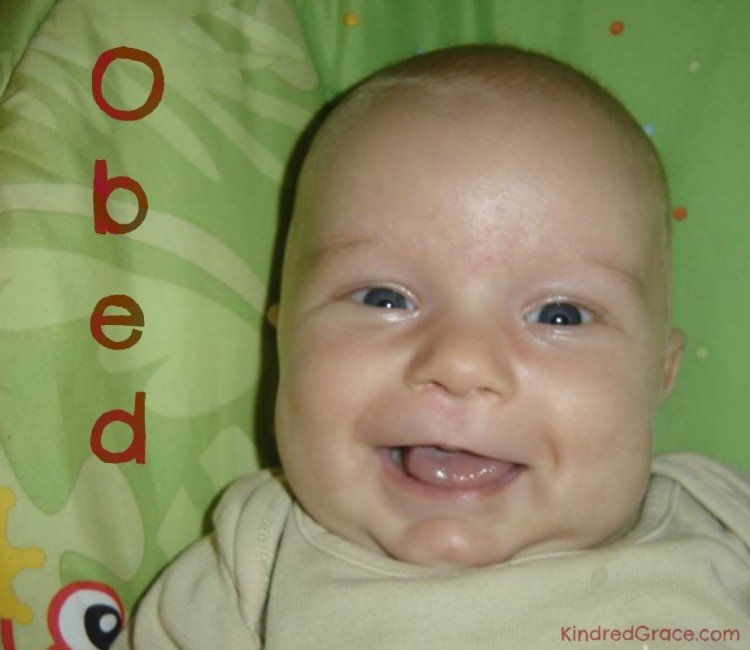 "My brethren, count it all joy when you fall into various trials, knowing that the testing of your faith produces patience. But let patience have its perfect work, that you may be perfect and complete, lacking nothing."
James 1:2-4