I felt as if I had just been given the Black Spot, the one from the book Treasure Island.
The hideous little joker lay there, flatly stamped on a playing card, grinning at me. This tricky creature had the potential for great triumph or great ill. And from the looks of the rest of the cards in my hand, he was probably going to ruin me. In our favorite card game, the joker is worth the most points. Either I could get rid of him quick and win the game, or I could get stuck with him and lose.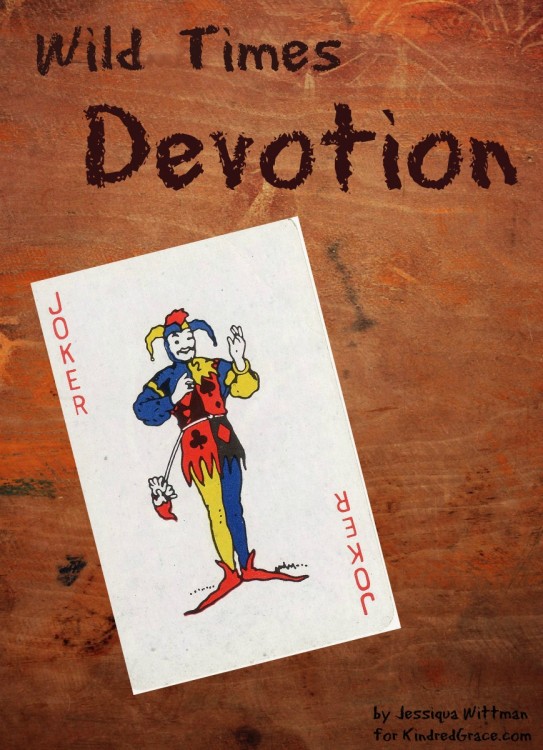 Spiritual Parallel
Life is like a card game. God deals me a hand and I make the best of what I've been given. Sometimes circumstances seem pretty decent, sometimes circumstances seem pretty bad. Sometimes it's easy to float along and keep the rules, sometimes it's tough and I'm tempted to bend. Then, sometimes, there's a wild card dealt into the mix. I can have great plans for what to do with the rest of my cards, but that crazy joker always messes everything up.
What is this wild card in my life? It's any aspect I can't control at the moment. It shows up in many forms: health, relationships, finances, etc. Sometimes it nags me, like a constant ache. Sometimes it lies dormant for a while, then jumps up and surprises me.
Every once in a while, whatever issues I'm currently struggling with rise up so strongly I feel carried along with them. They're so all-consuming it makes it hard to focus on anything else. I pick up my Bible and try to read it, but I end up just staring at the pages. So much is on my mind it seems impossible to concentrate. Most of my energy is spent on trying to hold back overwhelmed tears. The few things I manage to read are tainted by my cynical mindset and sound depressing instead of encouraging.
That's when I come to a crossroads. Keep that wild card or let it go.
Either I can choose to let myself be dominated and swept away by the current events affecting my life, or I can take charge and remind the joker who my God is.
Wild Times Devotion
There's a special kind of devotion that helps strengthen me in unpredictable times. It's not the orderly kind that can be found in paper books. It's not the turn-on/turn-off kind that can be gleaned from an inspirational audio tape or podcast. It's not the "amen" kind that can be experienced while listening to other people's testimonies. It's the kind that only comes from familiarity. Everyone has the same Bible they can read from, but not everyone has the same personal history and experience with God to draw from. Scripture is powerful, but it is also limited to black and white words on a page. Someone can study it and build their morals on it, but ultimately it will do them no good unless they have a true relationship with the divine Author.
Real-Life Relationship = Fuel for Faith
Nothing builds real relationships as well as living life together. Just like bumps in the road show how necessary it is to keep my car in good working order, the wild times of my life expose whether I've been faithful in the gentle times or not. It's a lot easier to hear God through the loudness when I've been practicing hearing Him in the quietness. Building a relationship takes time and dedication, but as I share my life's events with Him, they become part of my personal history that I can draw from later. If I'm struggling with a poor mood, pleasurable memories may seem far away. However, God has a way with redeeming even the hard memories into trust-building opportunities.
True devotion to God is tested during wild times. Then it is nurtured through deciding that whatever may come, you will be faithful. It may be tough, and you may not be happy about it, but be strong, your reward will come when the time is right.
For our Bridegroom is ever faithful.
"Let us draw near to God with a sincere heart and with the full assurance that faith brings, having our hearts sprinkled to cleanse us from a guilty conscience and having our bodies washed with pure water. Let us hold unswervingly to the hope we profess, for he who promised is faithful." (Hebrews 10: 22-23 NIV)