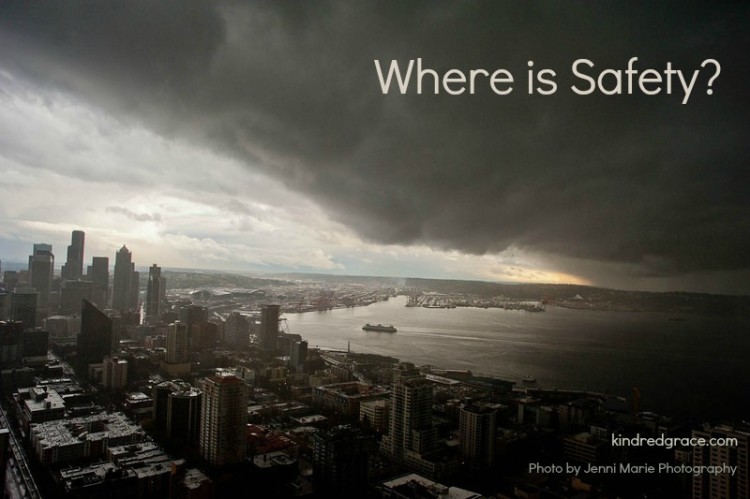 "Therefore let all the faithful pray to you while you may be found;
surely the rising of the mighty waters will not reach them.
You are my hiding place; you will protect me from trouble
and surround me with songs of deliverance." (Psalm 32:6-7 NIV)
I love this piece of Scripture. It is so comforting to remember when I'm frightened. When the floods of turmoil swell up and spray at me, I have this Bible verse in my arsenal to yell back at them.
But what about when trouble actually touches me? What do I do when those cold, horrible waters of misfortune splash me in the face?
The word "floods" brings a good example to mind.
Scripture says that God controls the weather.
"He causes His sun to rise on the evil and the good, and sends rain on the righteous and the unrighteous." (Matthew 5:45 NIV)
From this, you might think that our Lord is a deity of summer sprinkles and rainbows. However, other verses in the Bible paint a darker side of the picture.
"Have you entered the treasury of snow, or have you seen the treasury of hail, which I have reserved for the time of trouble…?" (Job 38:22-23 NKJV)
Hold on here! Trouble?! I thought trouble was the "bad guy"!
No… clearly, this isn't the case. Just look at your local weather report. It's obvious that God has got a lot more than just delightful things on His list of possible weather events. A lot of "bad" things have been happening to "good" people lately. Nowhere seems safe.
It is tempting to wonder: "Why does God allow such devastation?" And it is even more tempting to fear: "Will I be next?" I don't think anyone has a solid answer to the first question yet. However, I've found an answer for the second question that works pretty well for me.
In the words of the Master:
"I give them eternal life, and they shall never perish; no one will snatch them out of my hand." (John 10:28 NIV)
God's children are in the safest place possible: the palm of God's hand. And where is that? That is wherever He calls you to be. That is actively doing His will. That doesn't mean bad things won't happen to you. When Jesus said "they shall never perish" it didn't mean that Christians don't bodily die like the rest of humankind. Instead, being in the palm of God's hand means that you are His, He cares for you, and that there is a purpose to every single thing that happens to you.
"And we know that all things work together for good to those who love God, to those who are the called according to His purpose." (Romans 8:28. Emphasis mine)
That Bible verse doesn't mean everything is good, or that everything feels good. It means everything comes together for our good.
I don't know about you, but all of a sudden, this safety subject is striking a lot deeper into my soul than just recent weather disasters. Fear is a creeping tyrant that tries to control every area of a person's life. It will take every inch it is given, and seep through every crack in one's defenses.
However, God is not powerless. In fact, He is the only one that can stop that dreadful death crawl. He is a mighty Redeemer, and the Captain of our salvation (Hebrews 2:10 NKJV). The forces of evil are no match for Him. Everything is under His sovereign control. He knows every tear that falls (Isaiah 25:8). And He has felt every pain we are able to feel (Hebrews 2:17-18).
We are safe in His will. Not safe from sadness, or pain, or hard times, but instead, we are safe in these two assurances: He knows, and there is a purpose and divine order to what seems like madness.
(Read this psalm through to the end, it'll be worth the extra thirty seconds.)
"Give unto the LORD, O you mighty ones,
Give unto the LORD glory and strength.
Give unto the LORD the glory due to His name;
Worship the LORD in the beauty of holiness.
The voice of the LORD is over the waters;
The God of glory thunders;
The LORD is over many waters.
The voice of the LORD is powerful;
The voice of the LORD is full of majesty.
The voice of the LORD breaks the cedars,
Yes, the LORD splinters the cedars of Lebanon.
He makes them also skip like a calf,
Lebanon and Sirion like a young wild ox.
The voice of the LORD divides the flames of fire.
The voice of the LORD shakes the wilderness;
The LORD shakes the Wilderness of Kadesh.
The voice of the LORD makes the deer give birth,
And strips the forests bare;
And in His temple everyone says, "Glory!"
The LORD sat enthroned at the Flood,
And the LORD sits as King forever.
The LORD will give strength to His people;
The LORD will bless His people with peace."
(Psalm 29; NIV)