There is never enough time on weekday mornings.
I sometimes have dreams of starting the day with a good, hearty breakfasts eaten together as a family seven days a week and enjoying a leisurely cup of tea every morning over an inspirational read while I sit in my chair on the porch and watch the sunrise. But my weekday mornings aren't very leisurely, and we don't get to eat breakfast together until the weekend.
So when the alarm goes off on a working day, I drag out of bed for water (my coffee of choice) and to pack up Scott's lunch. I get my own work day set up. There's no time for cooking anything most days. I pack him a breakfast sandwich to go, and I eat toast and a fruit smoothie at my desk so I can start my work while the toddler eats.
But when the weekend finally comes, everything is different. I don't have to drag myself out of bed an hour before I'm ready. We all snuggle in a heap and let the morning break gently around us. We're together. Home, quiet, leisure. Books and tea. Talks and morning walks. All the little things we miss all week long.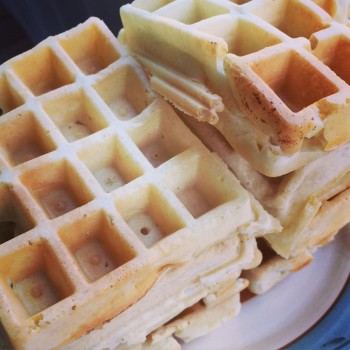 So on the weekends I make waffles. Growing up, Waffles were only for special occasions. They were for celebrations or holidays. And it's the little things like weekends together after a long work week that I think are worth celebrating.
Scott likes his waffles heaped up with all the toppings. I call his the "Everything Waffles". Whatever options I might have available, he always asks for everything.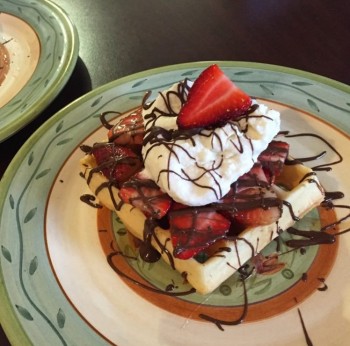 I'm more of a waffle minimalist. A little butter and a bit of maple syrup, or fresh berries and cream. If it looks beautiful, I'm perfectly content.
Charlotte takes her waffles plain, too. But mostly because it's more fun to top them herself than to get one already topped. A plain waffle is the perfect place to play a blueberry mancala game, in case you ever wondered. And if there are peaches, she'll eat one or more whole ones all by herself.
I always believe in food and traditions being part of the glue that binds a family together with fond memories from generation to generation. What could be better to build into our family traditions than the memories of celebrating being together with warm, homemade waffles on a weekend morning?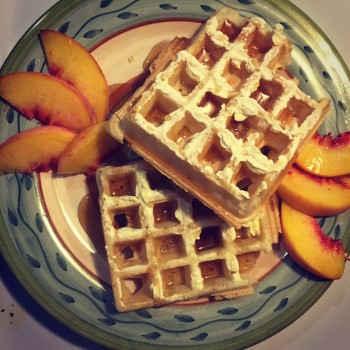 My waffle recipe is super simple. It had been a very long, long week and I hadn't made it out to go grocery shopping. When I looked into my pantry, all I had were the basics: flour, sugar, salt, oil and leavening. Turns out, that's all you need for a mighty fine waffle! I searched online for some inspiration, and modified this recipe to make one that worked for my waffle maker and suited the ingredients I had around. Plus, I like using my blender to make waffles.
It isn't gourmet, and it probably isn't the best waffle you'll ever eat, but it is delicious and satisfying. And I've found that it's easy to switch it up and use whatever flour or sweeteners I might have in a pinch, and it still turns out.
So here's to traditions, little celebrations, to good memories and good food, and to waffles on the weekend.
Simple Weekend Waffles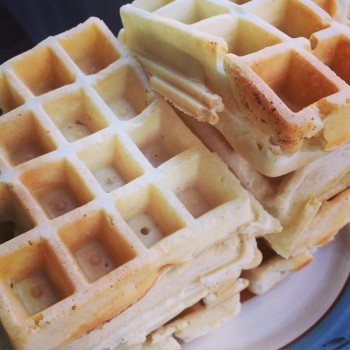 Ingredients
2 cups flour (I've used whole wheat, unbleached...whatever I had stashed at the time!)
1 tbs baking powder
2 tsp sugar (Any sweetener will work. Brown sugar gives it a warm, brown color and an extra dimension of flavor.)
2 cups liquid (Often I do 1 cup milk + 1 cup water)
2 tbsp oil of choice
dash of vanilla and cinnamon
Instructions
Preheat your waffle iron and prepare according to your brand's specifications.
Put all ingredients except baking powder, into a blender.
Tip: Unless you have a fancy blender like Blendtech, layering the liquid and dry ingredients can be helpful. Start with 1/3 of the liquid ingredients. Add a cup of flour. Add another 1/3 of liquid. Add final cup of flour and top with final liquid.
Blend and stir as needed. Add the baking powder at the end. Let it sit in the blender for a few minutes to "puff".
Pour recommended amount of batter for your iron. Cook until golden and crispy.
Top with your favorite things!