It's hard to go through illness or pain, especially prolonged illness and pain.
I've never had to face anything devastating like that myself, but I'm well acquainted with the issue through my dad. He came down with inexplicable chronic pain when I was a teenager, and the doctors have never been able to help him. He remains bedridden much of the time to this day.
Chronic pain or illness affects more than just the bearer of the issue; it affects all those who love that person as well. It's heartbreaking to watch someone you love go through pain and suffering. It's painful to be told: "You just don't have enough faith, or else they'd be healed by now." It's painful, listening to one of the most righteous people you know be called a secret sinner because no one can accuse them of anything terrible… but yet… "they're sick, aren't they?"
Being in pain is hurtful enough, but condemnation from other imperfect people makes it seven times harder to bear.
That's why reading Touching the Hem was such a breath of grace-filled air for me. When I was asked to review it, I declared that I might never finish it. In fact, I expected to angrily pitch the book against a wall, or into a trashcan, before it was half over. People have said enough well-meaning, but hurtful things already. I'm raw and sore where it concerns this subject.
However, Touching the Hem surprised me. And now I'm sharing it with my family so they can benefit from its healing, Biblical balm as well
A lot of books claim to be "Biblically based", and they build their arguments around a verse or two of Scripture. But this book was different. It was actually "Biblically based". It revolved around the whole of Scripture, and used Scripture to interpret Scripture.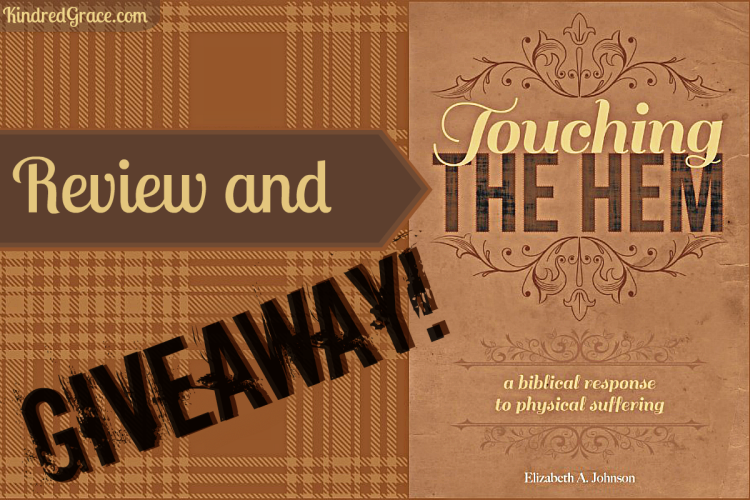 The author of Touching the Hem is Elizabeth Johnson. Some of you may know her from her blog, DogFur and Dandelions. Chronic illness is not foreign ground to her. She was diagnosed with Wegner's Granulomatosis in 2007, and has to spend most of her time at home because of it. Even yet, she maintains a friendly, cheery attitude, and writes in a gentle, encouraging way.
The book was well-organized into simple steps. First, the author encouraged us to take a look at God's character. Then she moved on to His works, our circumstances, our response, then God's response. A personal relationship with God and trust in His divine plan were greatly encouraged every step of the way. She didn't provide all the answers to all the questions that people have about pain and suffering, but she constantly pointed people to the One that knows the answers for each unique situation.
Although the book subtitle is "a biblical response to physical suffering", Elizabeth makes the case that our spirit, soul and body are all tied together. And that when the body suffers, the mind, emotions and spirit does as well. She says that weakness is pervasive, and that sometimes the best way we can strengthen our physical selves is to work on strengthening our spiritual selves. Therefore, much of the book emphasizes healing (spiritual) heart conditions. Because although every body will die someday, our spirits will live on forever.
The only thing I didn't like so much was how hard the author spoke against traditional, charismatic faith healers. But even there, she wasn't as rough as she could have been, and she provided some very interesting food for thought. Healing always has a purpose, and that purpose is to glorify God, not man.
Giveaway
Elizabeth is providing a giveaway copy of Touching the Hem to one of our readers. (She will ship anywhere in the U.S. or Canada–if you win and live elsewhere, she'll send you a free Kindle copy!) Enter below via the Rafflecopter form.