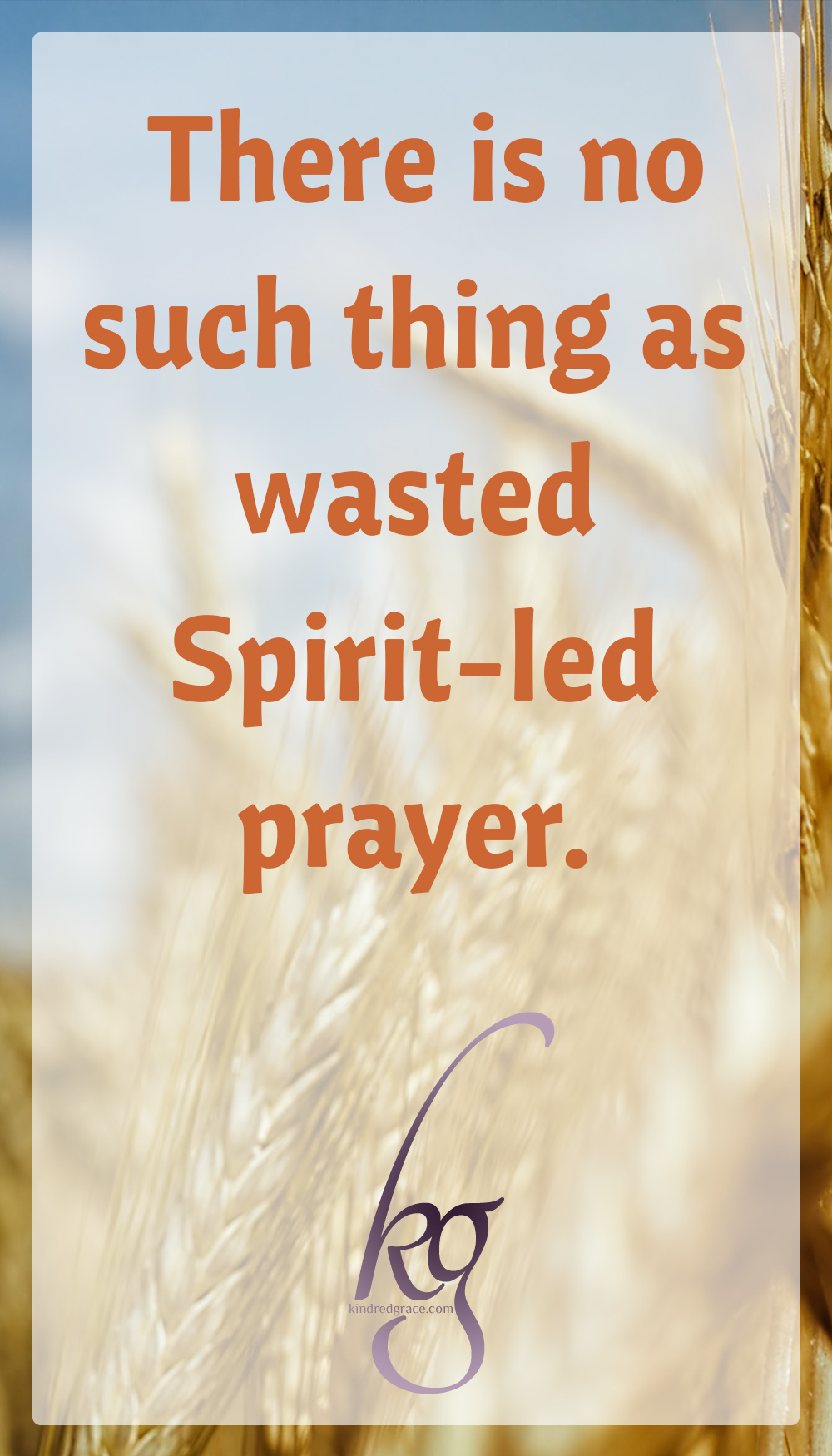 I'm no prayer expert. I don't see myself as the warrior type. You won't find me barging into the throne room and taking Heaven by storm. Certain gifts that are oftentimes connected with prayer don't seem to manifest in my life. Cynicism and unbelief haunt me. Many of my requests have been denied. Sometimes I let those memories embitter my heart and steal my faith so that I don't feel like praying at all.
However, the Lord has been able to teach me about the sowing and reaping of prayer over the last several years. These learning experiences have helped me to stop thinking of myself as a failure and start identifying myself as a student. My first lesson was the most memorable, and it also took the most time to complete.
When I was a teenager, I felt led to begin praying for my future husband every day. At first, I prayed the kind of stuff that most good girls probably pray for. I wanted him to be a loving husband, and a tender father, a wise and patient man, etc. But after a year or so, the Lord began urging me to pray for my husband in a different way. I was told that if my husband loved God above all else, then all those other good character traits would naturally, eventually fall into line. So that became my main prayer for my husband. Yes, I still prayed for him to be a great man and all that good stuff, but from that day on my main seeds of prayer that I planted were for him to grow in his relationship with our Heavenly Father.
I didn't know it, but that was the year everything began to change for my husband. I couldn't see those seeds, but they were growing in the darkness. Although my husband had been on the dark path of depression, he began to come out of the tunnel and into the light. Was that because of me? No, I hadn't even met the man yet! It was all because of the Lord. He allowed me to be a part of that glorious process by showing me how to pray and unlock the doors of Heaven on my beloved's behalf. Eventually, I met him and was able to see the fruit of my prayers. Then I married him and began to enjoy the harvest.
Everything happens in seasons, though. The harvest isn't the end of the story. Any farmer knows that after harvest comes more planting. I still have many seeds of prayer to sow and tend. I still pray for my husband; I also pray for my children, my family, my friends, and many other things. The sowing and reaping cycle is constant. That's probably why Scripture says to "pray continually" (1 Thessalonians 5:17).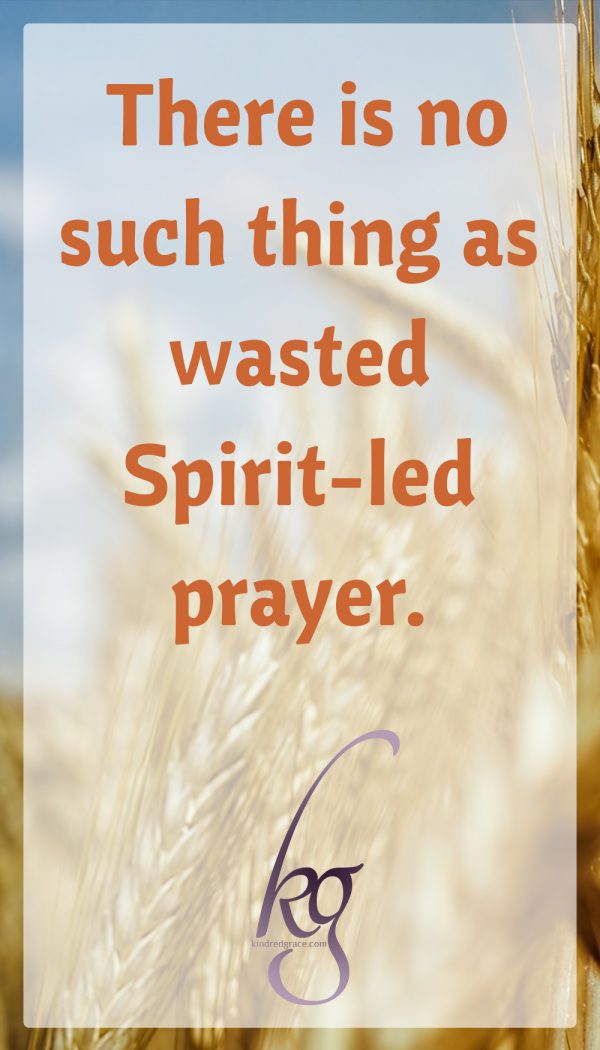 Here are some encouraging nuggets that I've learned about the sowing and reaping of prayer.
1. Harvest is rarely immediate.
Someday, "the reaper will be overtaken by the plowman and the planter by the one treading grapes" (Amos 9:13). But that day has not yet come in its fullness. When I plant my marigold garden every year, I have to wait a while after planting the seeds before I see any flowers. In fact, it's usually several days before I see little green sprouts of life. Those sprouts will come, though, at least in regards to prayer. Which brings me to my next point.
2. There is no such thing as wasted Spirit-led prayer.
I know this sounds idealistic, but hear me out. God is the ultimate opportunist. He takes advantage of every chance we give Him. Just because He says no to our requests doesn't mean that He doesn't hear our prayers. When we spill out our hearts to Him, He still moves on our behalf, even if it's not in the way we desire Him to. He comes close to us, even if we can't feel Him (Psalm 145:18). Those tears we drop and words we say and moments we spend in His throne room will not come to naught. They are precious to him and someday, somehow, He will use them for His glory.
"Do not be deceived, God is not mocked; for whatever a man sows, this he will also reap. For the one who sows to his own flesh will from the flesh reap corruption, but the one who sows to the Spirit will from the Spirit reap eternal life. Let us not lose heart in doing good, for in due time we will reap if we do not grow weary."
(Galatians 6:7-9)
3. There is a season between the spring of sowing and the autumn of harvest.
The summer of work and waiting contains several steps that are necessary to give your seeds a healthy introduction into the world when they sprout. It would be ridiculous if a pregnant woman did nothing to prepare for the birth and rearing of her unborn child. It is similarly silly to plant a prayer, and then to do nothing to prepare for the answering of that prayer. There is constant work to be done, like the weeding of doubts and watering of the Word. Sometimes pruning, or refinement of prayers, is necessary so that the finished plant can be more healthy, useful, and aligned with the Father's will.
Learning from the Master
Thankfully, our Lord is the ultimate Gardener. He planted the first garden, Eden, and He still sows many seeds today (Matthew 13). He understands the frustration that come with long, hot summers and disappointing, lean harvests. He also understands the joy that come with gentle spring rains and hearty reaping.
That's the true magnificence of prayer, you see. Like children helping their mom plant a flowerbed, we get to join with our Heavenly Father in the experience of sowing faith and reaping blessing. Although the end result may not be the garden of our dreams, it will certainly be the garden of our prayers.
What are some lessons you have learned about prayer? Do you have any favorite books on prayer?
One of my personal favorites is The Kneeling Christian, by An Unknown Christian.


(originally published in 2014)