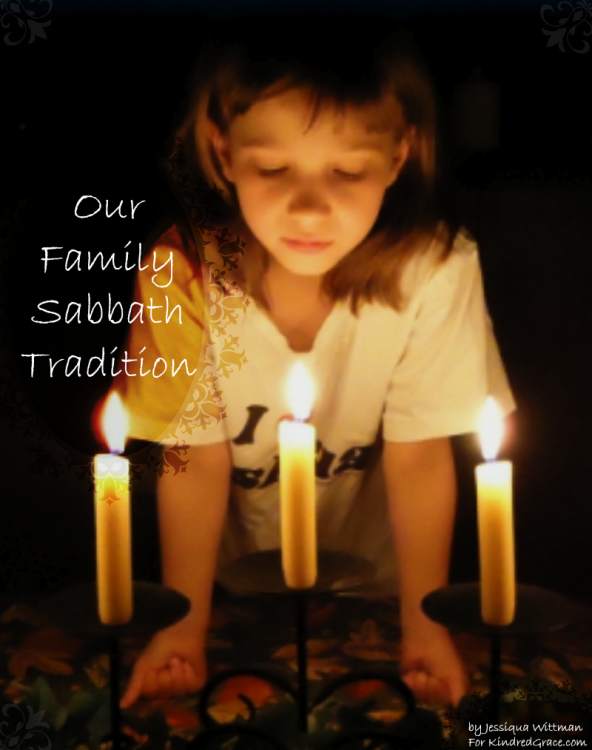 The joy begins as evening draws near.
My family drives up to my parents' place about an hour before dusk. My children run into the house, yelling for "Nanny and Papa". I'm greeted at the door by my siblings.
My twelve-year-old brother always checks to see if he's taller than me yet. It wouldn't be a huge achievement, except for the fact that my whole family is Shetland-sized. My ten-year-old sister always grabs my hand and starts explaining some new book she's reading. Her blue eyes sparkle and her high voice competes with our brother's for attention.
It takes some effort, but I get past the front doorway and follow my nose to the kitchen. It's Sabbath Eve, so the smell of fresh baked Challa is wafting through the house. Mom pulls the braided loaves from the oven and smiles at me.
"I added something special this time," she whispers. "Let's see if they notice."
I smile back at her. She's always adding something special to the Challa. Peaches, cinnamon, honey, coconut oil (not all at the same time of course).
Dad comes into the room and peers out the window. "It's starting to get dark. We better hurry!"
Soon we're all sitting at the table. My other, nearly-twenty-year-old brother is there. He works as an EMT, and is either talkative and full of energy, or drained and ready for a quiet evening at home. Dad encourages me to start. In the center of the table is a menorah candelabra. I tell the Creation story while lighting the seven candles. The kids help me remember the order of events and days. Then Dad salts the Challa, and touches it in a loving sort of way.
"You know… eventually I'm going to run out of bread," he says. "I'll hand it out, and we'll eat it all."
He pauses, then looks at each of us. The candlelight glints on his glasses and makes the red tones in his beard glow.
"But when the Master distributed bread to the 5,000… He never ran out. He just kept breaking and giving and breaking and giving."
We sing the blessings over the bread. My husband's voice joins with mine. My toddlers slurp juice from their sippee cups. Then we begin to taste the Challa. Mom eagerly watches our expressions as we guess what she's added to it this time. Salt and butter are passed around.
The best meal of the week is Sabbath meal. It's the evening that's reserved for new recipes and old favorites. We fill our heavy, transparent blue plates and eat until we're stuffed and happy. I've heard of people having to come up with games to keep conversation going around the table. However, my family doesn't need anything like that. The only conversation starter we have revolves around the menorah. During the meal, each person chooses which candle they think is going to last the longest. (Sharing is allowed.)
That usually starts a lively discussion that continues for the whole meal. We flit from shallow subjects to deep subjects and back again. Sometimes there's a story to tell, sometimes there's a mild theological disagreement to hash out, sometimes there's a new joke to laugh over. Although there's no such thing as stopping with just one joke in my family.
Finally, we're finished eating. We comfortably lean back in our chairs and feel five pounds heavier. Then someone pipes up, "Look! My candle's winning! I told you so!"
"It's not over 'til it's over," Dad reminds everyone as we all closely study the menorah.
You would think that the first candle lit would be the first candle to die, but that hardly ever happens. The race always comes down to two or three random wicks in puddles of their own wax. Then one snuffs out, then another, until one is left alone.
There's a collective cheer and groan. The family members who chose the winning candle do a victory dance in their chairs. We laugh about how easy it is to entertain a crazy family like us.
The last candle blinks out. A twisting, curling ribbon of smoke wisps up towards the ceiling.
My toddlers are tired. It's dark outside, and about time to go home. Thankfully, I know that this ritual will come again next week, and the week after that, and the week after that.
We wouldn't have it any other way.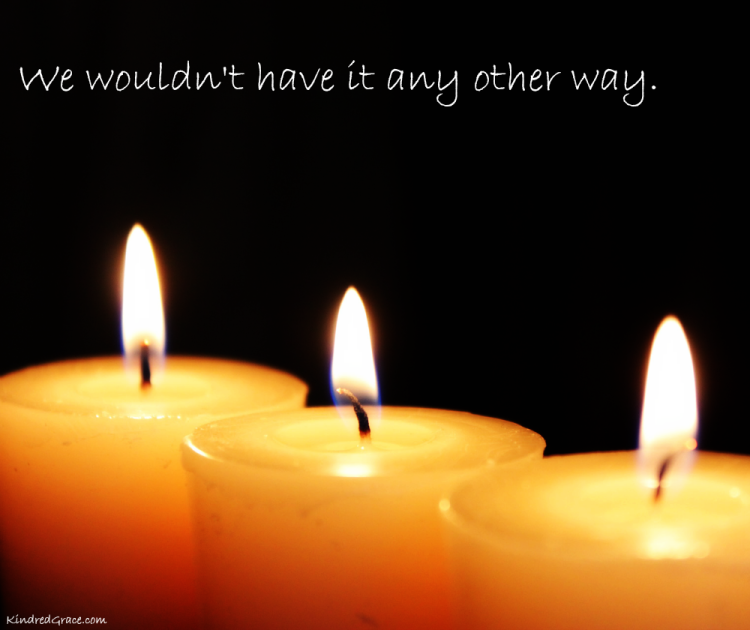 I wish I could share the recipe for Mom's Challa, but she herself doesn't know what it is. She just adds ingredients until it "seems right". So it's different every week!
However, I can share one of our family's favorite family meals. A friend taught me how to make this for my fifteenth birthday. We've sat around the Sabbath table many a night eating it together.

Ingredients
Three (3) pounds of boneless chicken (breasts or thighs)
One (1) family sized can of cream of mushroom soup (1 lb, 10 oz)
One (1) family sized can of cream of chicken soup (1 lb, 10 oz)
One (1) medium sized tub of sour cream (1.5 lb)
Poppy Seeds
Topping:
Two (2) packages of Ritz crackers (half a box)
Two (2) sticks of butter (1 cup)
Instructions
Preheat oven to 350 degrees.

Bake the chicken until fully cooked.

While the chicken is baking, mix the cream of mushroom, cream of chicken, and sour cream together in a large bowl. Add poppy seeds to taste.

When the chicken is finished cooking, cut it up into bite-sized pieces, then add it to the cream mixture and stir well.

Grease a large baking pan. Spread the creamy chicken mixture into the pan.

Melt the butter. Crush the Ritz crackers and add to the newly liquefied butter, then stir well.

Spread the buttery cracker mixture over the creamy chicken mixture.

Put the whole thing back in the oven until heated through.
Notes
(Poppy Seed Chicken is especially good with steamed corn and buttered bread. And do not replace the Ritz crackers with Saltine crackers. Bleh…)


Enjoy!