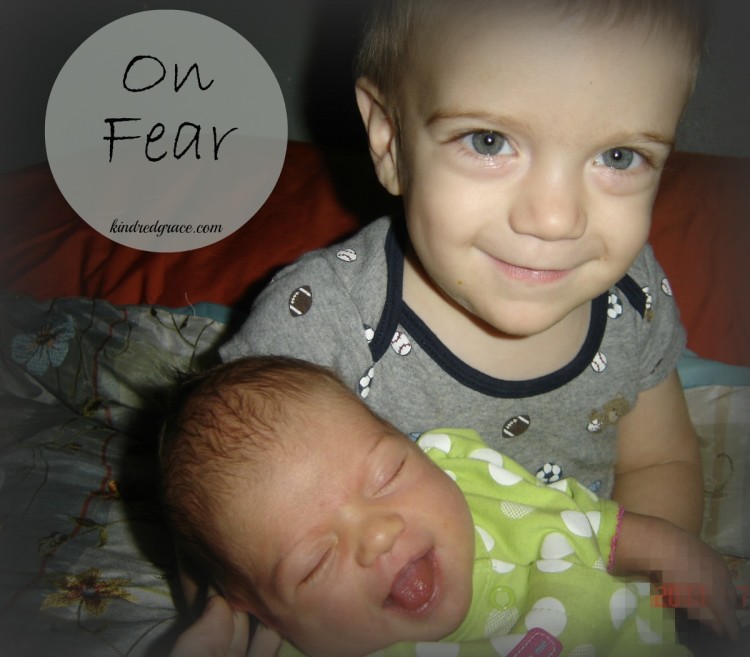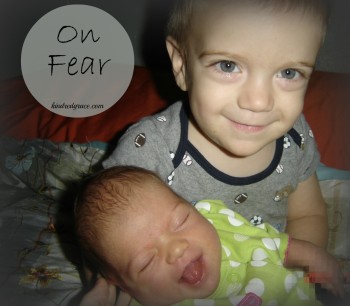 Fear is a strange thing to be writing about with two sweet children sitting on your lap. But it's the very fact that I have these children that makes this subject a struggle for me. The thing I fear most is grief. I fear the way I would feel if something ever happened to them.
But I know I can't let that fear eat at me all the time. One of my favorite quotes is from A.S. Roche:
"Worry is a thin stream of fear trickling through the mind. If encouraged, it cuts a channel into which all other thoughts are drained."
These words encourage me to focus on something different when I start thinking down the "stream" of worry.
But it's a challenge. And I don't want to just keep running from the fear. As I was praying about it all one night, the Lord answered by showing me how grief is pain; then He reminded me of labor pains.
You see, both my son's birth and my daughter's birth were the same sort of pain. However, I dealt with their births very differently. For my son's birth I was scared, and focused more on surviving than anything else. My mind was a wreck and my body followed suit. It took months to heal both physically and mentally.
My daughter's birth was different. I had decided that I would focus on the Father instead of the hurt. Whenever I would catch myself fearing the pain, I would purposely turn my focus back to relying on God. As a result, my daughter's birth was much easier. Technically it hurt just as badly, but somehow the hurt was much easier to bear. Healing was easier. I can't describe how much better the experience was.
Every area of life has the potential for pain. But it's become clear to me that how I deal with the pain affects its bite. Do I withdraw into myself and pull away from God? Or do I reach out towards Him in desperation? There's not another option. Either I try to deal with it myself, or I rely on Him to deal with it for me.
While my son was being born, I relied on myself, and although I made it through, it was a struggle. However, with my daughter's birth, I relied on God, and we conquered it together in half the time, literally.
To wholeheartedly rely on somebody, I have to trust them first. I know that the only way I can expect to conquer fear is by learning to trust Him. In truth, fear is just doubt disguised. When I doubt, I am not trusting, and therefore I don't have faith.
"There is no fear in love; but perfect love casts out fear: because fear has torment. He that fears is not made perfect in love." (1 John 4:18)
My fear of grief is only an issue because somewhere deep inside my heart I doubt.
What do I doubt? His judgment? His promises? His love? Who He is?
It sounds like I need to look at my relationship with my Father again. Relationship can't be based on what used to be, but on what is now. I can't tell myself, "We were on good terms yesterday." What matters is today. Today may be all I have. Today is when I need to trust.
"Cast all your care upon him; for He cares for you." (1 Peter 5:7)