Sometimes I'm embarrassed by the Bible.
The more I read it for myself, the more I realize that it just doesn't jive with this culture. People don't like being told they have to change, and the Bible is all about change. But it's also about being content where you're at. It's about finding your joy in the Lord instead of in mere things. It's about peace and rest. How are you supposed to both change and be at rest?
The Bible can be confusing, but it can also be amazing.
That's because no one word can encapsulate the Word of God. It's alive, and multi-faceted. Like a diamond, or a pearl.
Sometimes He sat on hilltops and spoke gently to the people. But sometimes He commanded His prophets to strip down to the skin and preach naked for three years. (Can you imagine being Isaiah's kids? Man… talk about embarrassed. I blush just thinking about it.)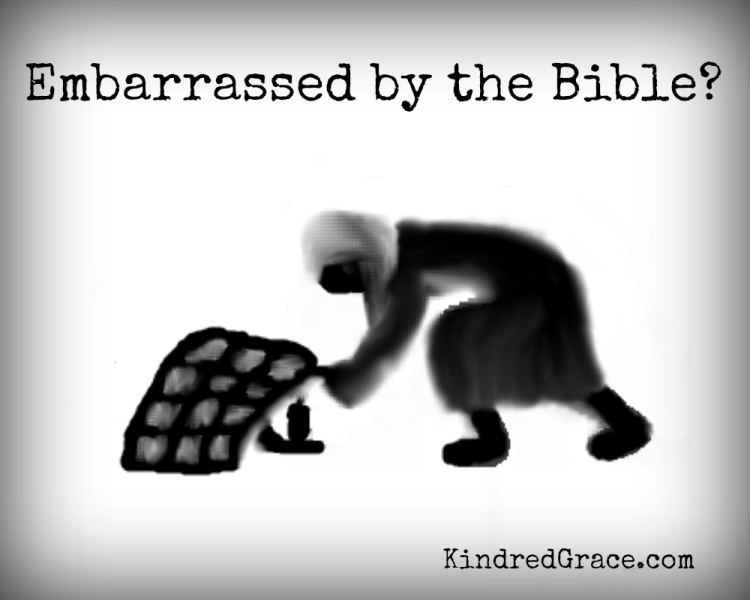 But here I am getting embarrassed again. Why do I keep having that reaction to God's Word? After all, wasn't it my older brother (in the faith) Paul, who said, "If we are 'out of our mind,' as some say, it is for God"? And, "For I am not ashamed of the gospel, because it is the power of God that brings salvation to everyone who believes…"
Maybe I need to analyze Paul's words. He says Scripture has power. And that is so true. The Word of God is called both "a double-edged sword" and "the sword of the Spirit". It is also a banner, a rally point for believers to gather around, a comfort in times of distress and an encouragement for the weak.
Does that sound mighty? Yes, is does! But the Bible is more than inspiring, it is essential for our spiritual well-being. The Word of God is our light. With it, we can see into the dark places. We can illuminate the deathly holes of the world and lead captives to freedom.
We are meant to be a light to the world. That doesn't mean that we have to walk up to random people and declare, "Hi! I'm a Christian!" (Unless you are called to do that.) But it does mean that we should have an answer for the way we believe, in season and out. A gentle, meek answer, infused with love.
And, if we live our lives seeking God continually, we don't even have to worry about what we'll say. We are promised that the Spirit will bring His words to remembrance.
Therefore, when I let myself be embarrassed about God's Word, I need to step back and ask myself why I'm embarrassed.
Am I ashamed of what it says? Why?
Am I afraid it won't measure up to expectations? Why?
Am I truly allowing a little trickle of doubt into my life? Why?
Let's think about it.
"For the Scripture says, "Whoever believes on Him will not be put to shame."
-Romans 10:11