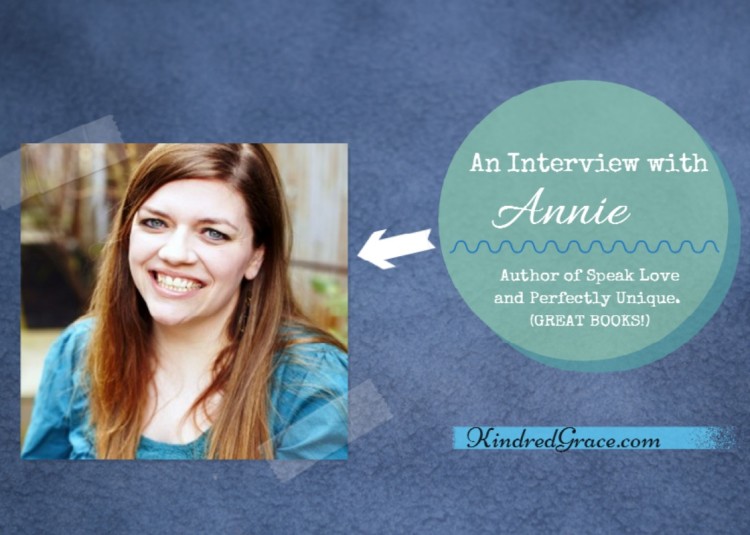 Jessiqua: Hello again! And welcome to Kindred Grace! We reviewed your book Speak Love for this year's March of Books and greatly enjoyed it. Are you currently writing any other fantastic books? Or are you taking a break from writing? Or are you not allowed to say?
Annie: Hahahaha. If I tell you, I'll have to kill your emoji. (JUST KIDDING!) I have a new book coming out this summer for adults — men and women — probably ages 20-40. I LOVE writing for teen girls, but I'm also excited to encourage and write for friends my own age!
I don't know what book is next — we're talking about a lot of options. (What would y'all like a book about?)
What triggered you to write each of your books? Was there an "I HAVE to write a book about that" moment?
For Perfectly Unique, I was leading a high school small group at my house and they asked me to tell them stories about God for Bible study. It is that boring of an answer. 🙂 I would write a lesson each week and by the end of the semester, I had accidentally written a book. Of course, it took five years to get published and on your shelf, but that's where it started.
Speak Love came from the reality that it is probably the most felt need in teen girls' lives right now — the power of words and how we should be using them. As I traveled around the country speaking to groups, time after time students and leaders and parents would ask me questions about the mean girl and social media and texting and all these things that revolve around the power of words. So I knew it was something we needed to talk about.
Do you have a favorite book (besides the Bible) that you keep reading again and again?
Christy by Catherine Marshall. It's my favorite book of all time. I'm not exaggerating, I've probably read it 40+ times, front to back. So now I can just pick it up and flip to any page and read for a bit. I absolutely love the story of a young woman giving up her comfortable life to be a missionary in another part of America. So moving.
Do you prefer to speak or write?
Depends on the day! Luckily, I love all parts of my job most days, so I love getting to do both. If I'm on a writing deadline, I probably like speaking more that day. 🙂 I love the entertainment side of speaking — where I get to be silly and tell jokes and stand up in front of big crowds and talk about Jesus. I love meeting the girls afterwards as well. But I have always treasured books, so the fact that God has made a way for me to write a few is a real blessing. Any time it looks like I'll get to work on a book, I feel like God has given me a present.
What kind of encouragement warms your heart the most?
When someone washes my car or gets it fixed. Can car repair be a love language? 🙂 You know, probably this is the most obvious of any, but I love words of encouragement. When I get notes in the mail or emails from a girl who knows God better because of something I have said or written, it just almost makes me cry every time.
What keeps you going, speaking, writing on "bad days"?
First of all, we all have those bad days. So, I have them. Sometimes I don't keep going. Sometimes I storm out of my house and stomp down the road to the Starbucks and read a magazine and pretend like the world doesn't exist. 🙂 And sometimes I cry.
But I know what God has called me to — even if I can't hear Him on the bad days, I see the fruit of what He is doing in the lives of teen girls and I know I am blessed to be a part of what He is doing. So that's what keeps me in it — because I know I'm lucky to be partnered with God as He works in the lives of teen girls.
Is there anything in specific that you would like to tell the readers of Kindred Grace?
I LOVE YOU GUYS! But seriously. From the very first, you guys have stuck by me and bought my books and reminded me that this career was a good idea. So thank you. I'm more grateful for you than you know.
P.S. Here's the link to the interview we had with Annie last year: Writing Something God Can Use. And don't miss your chance to win one of Annie's three books by commenting on Monday's post!