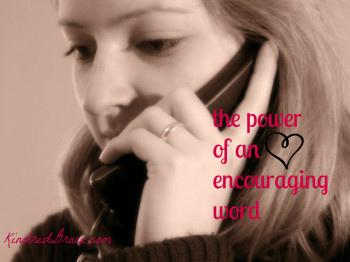 When we open our mouths to speak — something we do almost without thinking — we can easily forget that our words are a gift from God. Proverbs 18:21 tells us that our tongues have the power to speak life and death. As Christians, we are called to speak life; to encourage, strengthen, and bless people around us with our words.
I remember when I was fifteen and I sang with the youth music group at church. A kind lady took time to encourage me, and also to give me some pointers on how to improve my singing. This really built my confidence, and God used her to begin my music ministry in the worship group. A little while later, I had the opportunity to encourage someone in an area they were particularly gifted in, and I was thrilled when they began to take a more active role in the church, using the talent God had given them.
I began to learn the power of words and how using them for the glory of God, to build our brothers and sisters up, is what God has called us to do. This was incredibly important when a dear friend became ill. My Christian friends and I prayed for her, helped out practically, and sent her encouraging messages and Bible verses. She felt cared about and loved, and we stood by her and did our best to build her up through that hard time.
In 1 Thessalonians 5:11, we are told: "Therefore encourage one another and build each other up, just as in fact you are doing." When we see others as unique individuals who reflect God's image, we can truly appreciate them. We will want to encourage them, because we want them to value themselves as God's children, a living reflection of His love and grace.
Ideas for Encouraging Others
Pray for them, and then let them know that you have been holding them in your thoughts and prayers.
Take time to thank them for and encourage them in a particular activity they are doing, like leading Sunday School, or showing the love of God in the community.
Send them a letter or email showing that you appreciate them.
Give them time to talk about situations and things that they are passionate about.
Build them up in times where they are discouraged or lacking in confidence.
Ask if there is a particular way you can be a practical encouragement to them.
Whatever we do, let's do it for God, and let's continue to encourage and build each other up as we follow His plan for each of our lives. Most of all, be encouraged to be an encourager, as sometimes it's the little things that we say and do for others that can make the biggest difference.
Alice sees life as an adventure and loves serving God, learning new things, travelling to new places, and meeting new people. She lives in the beautiful countryside and enjoys writing, spending time with the wonderful people God has placed in her life, and long walks in the ever unpredictable British weather. She also runs her own health and beauty business.