The Prequel (by Anne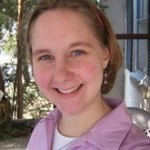 )
Before I get to our story, I want to give a little background in getting to this point.
It is always a choice to follow the Lord when He leads. After being in a very unsatisfying dating relationship at age 15, I determined before the Lord that I would not date around to find the right guy for me. It just wasn't worth it and the Lord showed me from His Word that it was my choice ~in fact, my responsibility ~ to keep my heart with all diligence (Proverbs 4:23). Easy to say, hard to do!
With good intentions firmly tucked in my mind, I embarked on this journey of keeping my heart. Isn't it true that when you determine to do good, the carrot is dangled in front of you to do something that seems to be good, but in reality is second-best? I had that happen to me – quite unintentionally, I assure you! One of the girls at church got engaged at 18 and suddenly the rest of us girls between 14-17 all thought that was going to happen to us:). Girls are funny creatures and once an idea gets established in their minds, there is no shaking them out of it!
My expectation at 18 was to "flip the tassel and say I do." My graduation from high school came and went, as did my 19th and 20th years. Somewhere between my 20th and 21st year, it dawned on me that I was not fulfilling God's purpose in my life by just sitting around and waiting for Prince Charming to come sweeping in on a white horse and carry me off into the sunset. (Where do these ideas get churned up anyway?!?)
It was at that point that I took the advice a dear friend had given to me two years previously on my graduation day: use my season of singleness to serve the Lord and not waste it. I look back with much regret on my first two years out of high school, for I feel I squandered so much time that could have been wisely spent in deeper service to my King.
As a side note, if there is any advice I could pass on to girls just graduating from high school it would be the same advice my friend gave me: use your season of singleness for the Lord; you won't regret it!
I must say that advice was very liberating for me as I begun to apply it to my life. This advice was in keeping with the truth found in 1 Corinthians 7:34 ~ "The unmarried woman careth for the things of the Lord…" From that point on, I made it my priority to serve those around me and in doing so, I was able to experience so many new and wonderful things.
I was also able to take several short-term missions trips and this would be something I highly recommend to single gals. Do it while you can! If God gives you the burden to go, He will provide the rest. As a friend of mine likes to say, "God's not broke!" It's so much fun to step out and watch the Lord pull all the details together for whatever it is the Lord has given you the desire to do.
From Her Perspective: Part 1
Because I love irony, I think it's great Nat and I have the same birthday ~ February 1st. So yes, that makes Nat exactly 5 years older than me and I like to think we're going to be very efficient in our birthday celebrations since they're on the same day and all:).
Nat came to my church about 4 years ago and came on church staff right away, so I saw him on a daily basis and became friends with him. When I first met him, I thought Nat was a nice guy and was really impressed with his consistent character and pleasant demeanor. At the time, I never really thought anything more about him, outside of being a friend. That's one really good thing about not dating ~ everyone seriously can just be friends with everyone without pairing off.
In April 2008, Nat and I were chaperones on a high school trip to Illinois. I'm not sure why, but something clicked in my mind on that trip and I suddenly realized Nat was a very godly man who loved the Lord. I began to sporadically pray about Nat and wonder to the Lord if Nat could be "the one." After that trip, I took a friend into confidence and told her what I was thinking. It just so happened that around that time my Pastor was preaching a series of messages on accountability and the importance of being accountable to someone, so I asked my friend if she would keep me accountable regarding my thought life. I didn't want to think about Nat or begin to dream, as girls are so prone to do! I praise the Lord for my friend who did a great job in asking me "how are you doing?" when I was at weak and struggling moments. My friend kept me accountable for over a year and was truly used of the Lord in my life.
In August 2008, I headed back to Thailand to help some missionaries ~ completely excited and thrilled to be following the Lord's leading! Two months later, Nat came to Thailand with a small group of men from my church and then stayed an additional two weeks after the men returned home. As I watched Nat interact with the missionaries and my co-workers, I liked what I saw.
Once he returned home, Nat began to chat me on IM about general things: the office work in Thailand, church happenings back in PA, etc. Years ago, I went out to breakfast with a friend who was telling me about how she and her husband got together and toward the end of the conversation Jenn said, "Let the guy you marry pursue you, Anne. There's nothing sweeter!" I remembered what she said and determined not to initiate a chat or an e-mail with Nat. I figured if he was the guy for me, he was going to have to pursue me:).
When Nat first started chatting me, I remember praying and asking the Lord to make him stop chatting me if his intention was to just continue being friends, since hope was stirring in my heart. Such an eloquent way of putting it to the Lord, right? "God, make him stop!!!!!" I wasn't aiming for eloquence, I was aiming for my heart to stay in one piece:). Nat kept chatting and I kept going to the Lord in prayer with, "Um, Lord? Make him stop – I don't want to get hurt!" Somewhere along the way, it finally dawned on me that God wasn't making him stop and I thought, "hmmm, that's interesting." *Sigh* I'm a little dense:).
I remember coming down to prayer meeting one Friday morning in April of this year. My housemate – Carolyn – was sharing a gem she had read in the Word of God ("ye have not because ye ask not") and then hit us with the challenge to ask God specifically for something. I thought about what Carolyn had said and the next morning I asked her about it. We ended up talking for 3 hours about how God wants us to ask Him and take Him at His Word! From that point on, I began to ask the Lord to pretty much put me on Nat's heart.
I don't think I can ever totally convey the spiritual aspect of this journey because it was so deeply personal and very refreshing to get so alone with the Lord. I had a peace that the Lord was going to orchestrate all the details out regarding Nat and I and that I could quite frankly just sit back and enjoy the ride;).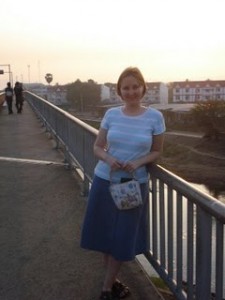 During this whole time, I was thoroughly loving every moment I got to be in Thailand and was plugging away in the office having a wonderful time:). People in the States would often ask me what I was going to "do" when I returned to the States and I would give out an answer somewhere along the line of, "Well, umm, yeah, I, uhh, umm… am not exactly sure." Real definite, right? 😀 Well-meaning people would come along and offer suggestions – I got everything from helping in a girls' home in Illinois to teaching ESL (English as a second language) in Hong Kong!
Even though I couldn't just explain it this way to people, in the back of my mind I knew the peace I had from the Lord and was waiting on Nat to express himself. All those months we were chatting, Nat never came out directly and said, "I'm interested in you, Anne" but his actions shouted it rather loudly in different ways. I laugh now as I think back to my year in Thailand, because outside of my mom and sisters, Nat was the one who communicated with me the most on a regular basis. In fact, I knew more of what was going on with him than I did with some of my closer girl friends:).
During one of the times we were chatting, Nat casually mentioned he was looking for tickets to come back to Thailand. What was initially going to take place in February got pushed back to June and then to August. I was really looking forward to Nat coming, but I'm so glad (now!) the Lord didn't allow him to come in February or June because he would have been a distraction for me:).
Nat did come to Thailand on July 31 – one of the longest days in my life! Lest you think it was because I was waiting with anticipation to see Nat again, it was actually because I was baby-sitting 4 young kids from the wee hours of the morning until late at night:). I wasn't even planning on going to the airport with the rest of the team to pick up Nat since I was going to keep the kids all weekend, but one of the little girls had a meltdown around 8 PM that night and really, really wanted Mommy (who had just given birth to baby #5!) and Daddy. Their Daddy decided the kids should come back to him (in the kids' defense, they did very well all day being with someone who was practically a stranger!), so Bro. Tom suggested we drop the kids off at the hospital on the way to the airport to pick Nat up. I'll admit that my first reaction was not very sweet since I had gotten the kids in their pjs and *I* was in my pjs ready for bed, but I saw the wisdom in going along to explain things to the dad.
A few weeks before Nat came to Thailand, Ben (another guy from my church) came over to be a help to the missionaries I was working with. To make a long story longer:), Ben somehow figured out that there was some, ummm, interest on my side in regards to Nat so he suggested I just be myself when Nat came. I wasn't sure if he meant be myself as in break down a bathroom door or throw food down the stairs, so I erred on the side of caution and instead chose to stick my foot in 3 inches of mud because I'm just so graceful that way;). Interestingly enough, my name happens to mean "graceful"… right. Moving along!
As I stated before, Nat and I were friends, so it was just a lot of fun to have Nat work in the office with the rest of us. I greatly enjoyed not only having people from my church there (at one point, a third man from my church stopped in for a visit during a business trip), but having people I was very comfortable around as a part of our team. As a side note, it was always so rewarding and refreshing to host people who came through on missions trips, although it was also very exhausting work too! I must admit that when Nat left in mid-August, the ladies on our team breathed a collective sigh of relief that our last visitor was gone:). That ended a 3-month marathon of cooking dinners and hosting visitors throughout the entire summer, and quite frankly we were plain tuckered out!
After Nat left, I had about two weeks left in Thailand before I returned to the States. Those last two weeks were probably the most emotional weeks I experienced while in Thailand, because I dearly loved being a part of the work there in Bangkok and yet I knew the Lord was leading me home. Two weeks quickly turned into a week, and then the day of departure was at hand. My Thursday night flight out of Bangkok was a midnight flight, so that meant I could have one more Bible Study service with the team. As Bro. Tom conducted the study, he had tears in his eyes when he said to me, "Anne, God is closing the door for you here in Thailand, but that's because He has something better in store for you."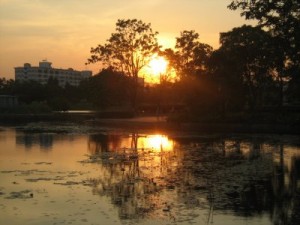 At that particular moment, I couldn't imagine anything possibly being better than me staying in Thailand, but praise the Lord He is not directed by my feelings and wants! It was almost as if my sweet Savior was beseeching me to simply trust Him with the next step on the path… He wouldn't lead me astray! That night many tears were shed and hugs exchanged, but the Bible Study was exactly what I needed to hear and it prepared me spiritually and emotionally for the transition back to the States.
Immediately after flying to the States, I took a week-long trip to Florida and am so glad I did. This trip was most necessary in getting over some hurdles and adjusting to life in the States again. By the time we headed home on Saturday, I was ready to get back to the real world awaiting me in Pennsylvania:). Sunday was a big shock to me as I greeted people I hadn't seen in over a year, marvelled at the way the kids at church grew, and observed the many different changes that took place to the actual building during my absence. Over the next few days I felt like I was walking through a fog and trying not to compare everything to Thailand ~ a memory that was still very fresh in my mind.
The following Thursday I was sitting in my room reading when the phone rang. Since my parents were both still sleeping, I answered the phone and was surprised to hear Nat on the other end. Surprise turned to shock when he said he was calling to speak with my dad. After mumbling something half-way intelligible about calling back later, I hung up and just stared at the phone. I was fairly confident that Nat wasn't calling my dad just to chat about the weather, but at the same time I didn't really want to think about why he was calling to talk to my dad!
I had told Nat to call back at 1, so I made sure I was far away from the house when that conversation took place! My friend and I had taken up walking at a nearby park, so I quick called her up and asked if we could go walking for an hour or three:). I tried not to think about what in the world Nat and my dad were talking about, and the Lord had a sense of humor enough to provide a diversion for me:). My friend had to go deal with something and I ended up baby-sitting her son while she was gone.
I thought I was in the middle of a movie when chaos broke out at my friend's house: the dog was barking frantically, the baby boy was crying hysterically, and my cell phone was ringing ~ all at the same time, of course! Even though I didn't recognize the number, I picked up the phone anyway and Nat was on the other end. I felt slightly rude in asking him to call back later, but the screaming baby on my lap convinced me that was the best plan to implement;).
From His Perspective: Part 1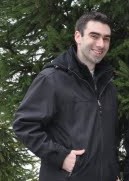 As I see it, the story starts back in 2006, when I moved from TX to PA to attend the Bible Institute at Lehigh Valley Baptist Church. Everything was new, exiting, and somewhat intimidating. I had just come from a small mission work in TX, with 3 families and a monthly visitor. Suddenly, I was whisked into the midst of a 300 member church with enough people and programs to boggle my mind. As I poured myself into my Bible Institute studies, I was determined not to let anything shake me from my goal of preparation for the mission field.
Anne was one of the first people I met at church, but I was careful not to add any significance to that fact. I remember her as a quiet and pretty girl at the front desk. She had a joyful and sincere personality that I was naturally attracted to, so I made sure that I didn't spend any more time in the office than was necessary. =) Hey, I wasn't there to get married, I was there to study! I have to say though, that I logged quite a few mental notes from that time period. One of those memories was reading her personal testimony tract and learning that we shared the same birthday. That was an interesting fact, but no big deal; especially since she was 5 years younger than I was. I determined to stab any fanciful thoughts about Anne and get back to work. I know now that if I had spent some time getting to know Anne at the beginning, that I would have found many common interests and pursuits. But alas, that was not to be, for the Lord had some stretching and pruning to accomplish in my life.
The next few years included some of the greatest highs and deepest lows of my life. God used a Chinese Bible study and some close friendships to challenge me to become more active in discipleship. Out of this time grew a relationship with a young lady that I had grown to admire. Her brother and I were good friends and I greatly respected her ability to connect with the Chinese students and point them to Jesus Christ. It was right around that time that I felt that God would have me pray specifically for a wife, and it seemed that God had brought our paths together at just the right time. To make a long story short, things didn't work out as I had planned. Shortly after engagement, our relationship fell apart. The more I struggled to put the pieces back together the more confusing and complex things seemed to become. Eventually the wedding was called off and it became obvious that we were both heading in different directions. I was devastated and poured out my broken heart to the Lord. It seemed that all my plans had gone up in smoke, and I was left with a pile of ashes and more questions than I could count.
It was in Mexico, that God began to heal my heart. My good friend, Milton Martin, invited me to get away and travel with him to Chiapas, Mexico. I gladly accepted and was grateful for the opportunity to get alone with the Lord, in a distant land. I was attending a Bible conference at Chilon and had some extra hours in the afternoon to read and wait before the Lord in prayer. I had brought along a copy of The Making of a Man of God by Alan Redpath, and the Holy Spirit used David's desire to build the temple as a reminder that his purposes are so much bigger than my limited plans. I remember pouring out all my desires and plans to the Lord, determining that if I never was able to have a family or make it to the mission field, I could invest myself in the lives of others. I determined to be an instrument of blessing to other missionaries over that next year, and God gave me such a peace in joy in serving him with my whole heart.
And here I have to clarify that God had placed a specific desire and focus for Thailand on my heart back in 2004. Since that time, I couldn't shake the fact that God wanted me be involved in discipleship and church planting in that strategic region of SE Asia. I had been able to visit several times, to help other missionaries, but yet the Lord had revealed that he wanted me to train and go back as an independent family, and not simply as a helper. I hadn't a clue how that was ever going to work out, after the mess I had created, but I decided to just "go back to sleep" and place that problem back in the Lord's hands.
It was around that time that Anne came back from her first trip to Thailand and I realized for the first time how much I respected her friendship. I remember logging a few more mental notes at this time, but I was seriously not interested in starting any new relationship. In fact, I remember stating that fact clearly to a few well-meaning friends that mentioned the obvious fact that since I was heading to Thailand and Anne had been to Thailand, that we would make a perfect couple. =) Nope, nice try. I was not about to be swayed by circumstances. In my mind, God had not opened that door, and I was not about to test the handle until He revealed that himself. Besides, I was actually enjoying the busyness of the year, and the opportunities for evangelism were exploding all around me. As I saw it, this was not a time for marriage. It was a time to work.
So, what opened my eyes? That is the question of the hour. It wasn't long before Anne was back in Thailand and I was busy about my duties. Would we ever connect? Would Nat ever realize that something had "clicked" on the High school field trip in 2008? Would Anne's patience wear out before the answer came? Tune in next time to hear the answer to these questions and more.
From Her Perspective: Part 2

When I asked Nat to call me back later (remember the screaming baby?), he said he would in one hour. That one hour was one of the longest of my life! My friend found out who had been on the phone and asked me what Nat wanted. I responded, "I don't exactly know… he's going to call back in an hour." She wanted me to give my mom a call to find out how the phone call with my dad went, but I said no since I wanted to hear from Nat himself. I'll spare you all the endless thoughts and musings of that hour because quite frankly I'm sure my girl readers will be able to fill in the blank very well!
My cell phone rang as I was driving home and it was none other than Nat on the other end. Without much chit-chatting and small pleasantries, he plunged in right away and said he talked with my dad on the phone and then came over to drop a little booklet off at my parents' house. He then said he had been praying about this for a while and felt it was time for us to get to know each other better. Now it's one thing to pray about this myself and think this is going to work out, but it's quite another thing to actually hear Nat express it himself!
I remember telling Nat that it wasn't exactly a surprise to me that he called my dad, etc. but I was surprised that this all took place so quickly after returning home from Thailand and Florida. In my mind I guess I was thinking Nat might approach the subject within 3-4 months, but I am definitely ok with the fact he did it in less than a week of me being home:).
When I got home, my mom was busy doing something in the kitchen, so I sat down and asked her how everything went. She then filled in a few of the details, all the while continuing about doing whatever it was she was doing. My mom has been so completely calm and down-to-earth about everything that has taken place since September 17th, which I am so grateful for!
The booklet Nat had dropped off was filled with a bunch of "getting to know you questions" that our Pastor had given to Nat, so the next day Nat called and using the questions as a springboard, we began to get to know each other better. This pattern continued on for the next few weeks – Nat would call every 2-3 days and we would chat on the phone for quite a while, which was a lot of fun:).
The hardest part about this whole thing was not telling people, with the exception of a few close friends. I didn't really see Nat much during this time because he would be helping at another church in New Jersey on Sundays and our paths didn't cross much during the week. My parents had suggested having a dinner so Nat could meet some of my siblings, so that was scheduled for October 4th. In the end, only my brothers could come (as well as two families from church) but both of my brothers liked Nat right away…. whew!
We continued going through the questions in the book, but by this time we were both quite certain that it was indeed God's plan for us to form a commitment indicating that we were going to get married. If I could, I want to pause the story here long enough to say I tremendously enjoyed getting to know Nat without having to worry about ulterior motives or having to impress him – it was so freeing to just simply be myself! Realistically speaking, honesty in communication is what our relationship needed to be based upon from the beginning. It was still so nice not to have to put up a front in order to "catch" this guy… which is a ridiculous concept anyway!
Nat had asked me to give his mom a call, so one Monday we switched places, so to speak:). I called and talked with his mom, and he came over and talked with my parents. I didn't know it at the time, but the reason he came to talk with my parents was to ask my dad for permission to marry me! I continued on in my state of oblivion and greatly enjoyed chatting with his mom. Nat's immediate family lives in Texas and I've only met them once when they came through a few years back, so chatting on the phone was a good opportunity to get to know his mom a little better.
We both had agreed our next step was commitment, but this is the part where I got to skate easy, since it wasn't my responsibility:). That all fell entirely upon Nat's shoulders, and I was quite content to continue our phone conversations and see the Lord work it all out in His time. Probably the most awkward part of this all was trying to explain to some family members what it was we were doing. That was always an interesting conversation to be had:).
A long time ago I used to think I wanted to be engaged for a month before anyone knew about it just so we could enjoy our engagement, but I will now state very emphatically that idea was absolutely crazy! The Lord had a sense of humor enough to show me the error of that thinking because Nat first approached my dad on September 17th and we didn't get engaged until October 20th. One very, very looooong month! So if there is any girl thinking along the lines of what I thought, my suggestion is to go throw that idea into the trash because by the time your special guy is in your life, you're going to want to tell everybody you see:).
I do have a funny story from when Nat met my sister and her husband (three days before our engagement). Because of previous plans, my sister and her husband were unable to come to the dinner my parents had on October 4th. We worked out a time when Nat would come down to their house so they could meet and we also invited my brothers to come down too. One person I didn't count on was my aunt. She lives in North Carolina but was in Pennsylvania for a couple of weeks. This particular Saturday she had plans that got cancelled at the last moment, so she called my sister up and asked if she could come to their house and watch a Florida Gators football game. My sister kept putting her off and was asking me what to do:). I wasn't intending to tell my extended family about Nat until after we were engaged, but since Murphy's Law is alive and well in my life, I just laughed and told her to give the go-ahead to my aunt. We just didn't tell her about Nat, that's all:D.
My aunt showed up at my sister's house and was excited to watch the Gators game as well as enjoy dinner with us. My sister and I were working on dinner, so we sent my 4-year-old nephew into the living room with my aunt. My sister and I heard my aunt and nephew talking about the game and dinner when my nephew said, "And Nat's coming." Our heads both shot up and we froze. Thankfully my aunt didn't understand my nephew and she continued watching the game. My sister and I however kept hearing my nephew say, "Nat" this and "Nat" that (let me insert here that my nephew hadn't even met Nat at this point!). My aunt was completely shocked when Nat showed up at the door and my nephew said, "Nat's here!" (as if he and Nat were best buddies their entire lives:D). My aunt just stared at me while she slowly asked, "And who is Nat?" I wasn't sure what to say so I just said, "Um, Nat's, um, a special, uh… friend." So smooth, right?
*Sigh*
Nat normally goes down to a church in New Jersey on Sundays to help with their youth ministry, but decided to come to services at LVBC the next day since my Pastor and his family were going to be in Botswana, Africa for three months. I have to admit that when he said he was going to be there that day that I thought, "Oh no! Please Lord, don't let him stand up in front of the entire church and ask me to marry him in front of everybody!!!!" I knew he had a "surprise" for me since my mom had told me that, but I was really praying that "surprise" wouldn't include 300 other people! I was so relieved and thankful that the afternoon ended without any fanfare:).
Little did I know what awaited me on Tuesday:).
From His Perspective: Part 2

For Anne, things started to "click" on the bus ride to IL. For me, it took the bus ride, casual discussions over lunch break, my sister coming up to visit and staying at Anne's house, a volleyball game and extra time in the Production room to get my attention. =) You can call me dense, but I choose the title "focused." =) I remember sitting at lunch one day and thinking how Anne was the type of person that I would like to marry, in that our personalities were a good match. However, as much as I respected Anne's personality, I really didn't expect anything to work out between us, because the Lord hadn't given me clearance to pursue her. I was simply content to be friends and enjoyed the fact that we could interact without reading between the lines.
Anne left for Thailand and apart from missing her smiling face in the office, I honestly didn't think much about her until my trip in October. You see, I had set all specific plans for Thailand aside over the last two years, so I was excited to travel with 5 guys from my church and "introduce" them to the land that I had grown to love. Since I had always stayed for at least a month on previous trips, I naturally extended the 2-week time period of the team to have an extra 10 days to spend with Gaudets and Langes. I enjoyed being a part of the office crew for a week, and it suddenly dawned upon me how much Anne really enjoyed being in Thailand. I really don't know what I was expecting, but since I wasn't a faithful blog follower, it took that trip to reveal her heart for the mission field. I was impressed with her ability to thrive in the midst of the struggles on the field, and how God had knit her heart with the two missionaries that I had grown to love and respect. Looking back at that time, I see that my casual interest in Anne spoke louder than I would have imagined. I still remember the look on Pookie's face when she learned that Anne and I had the same birthday. It was like we had somehow conspired that to happen and were hiding some secret from her. =) Well, if a secret was hidden from anyone at that time, it was hidden from me. My mind was busily at work, thinking through my plans for Bible Institute and how I could assist with the work in Thailand, in the midst of my preparation.
I left Thailand with a renewed vision for ministry and a desire to come back soon and help Bro. Tom with a few projects. The Lord knew I needed that spiritual boost because shortly after I returned home, I had to deal with a difficult situation at church that could have set me into a tailspin. However, the Lord was faithful and used this trial to strengthen my ability to stand alone for the truth. So as the dust settled, I pulled out my plans for a short trip to Thailand and started looking for a free space on the calendar. I had originally planned to travel back to Thailand in February, but it seemed that everything was against that time frame. I had several urgent projects to deal with, our yearly high school trip to IL, and a Bible Institute course that was taught only once every seven years. So, although I couldn't make it at that time, I sent over two other guys to try and be of help, while I was busy at home. That's when things started to fall into place with my communication with Anne.
In an effort to keep up with Bro. Tom's projects and needs, I found myself chatting with Anne quite frequently. Anne was a consistent point of contact for the Thailand office, and so when I saw her online, I would stop by to get the latest news from the field. Then one day, I realized how much of a regular habit I had made of chatting with Anne. In my mind, I was careful to keep the conversation limited to prayer requests and projects, but I also knew how much I enjoyed stopping by to say hello. Then it hit me – I'd better pray about whether I should continue to talk with Anne, because I was starting to cross the line from casual friendship into close friendship – serious stuff.
I'm so glad that I didn't know what was going through Anne's mind at this time, or I could have been seriously side-tracked from following God's timing of events. All I knew was that God had placed a desire on my heart to get to know Anne better, and to do so in a way that would not stir up her emotions or the excitement of friends. Okay, so in looking back, I've learned that my tactics weren't as secretive as I thought, but I really did try to limit the frequency and content of my communication with Anne. Anyway, realizing the seriousness of the situation, I grabbed a stack of character qualities and set out to do some homework. I have to say that I was surprised by how many situations I could recall that matched the qualities in question. According to my calculations, I actually knew Anne better than I thought I did.
Then the thought hit me that maybe God was bringing our paths together. "No, that must be my imagination," I thought. "Focus, Nat, focus." I had been planning a video project with Tom Gaudet, but the timing kept getting pushed back due to our schedules. Finally, I secured a date for August and stuck to that. I was now praying specifically about Anne, but I honestly didn't think that she had a clue or any desire toward me. That is the beauty of how things unfolded in my mind. Even though it wasn't a secret to her or to those in Thailand, God kept confirming his will to pursue Anne in ways that were not influenced by others. In my mind, I was embarking on a secret project. To the rest of the world, Nat was slowly waking up to the obvious. =)
I had sent my good friend Ben to Thailand ahead of me to capture footage for the video project. Somewhere along the way, Ben decided that Anne and I would make a good couple and figured that must be a the underlying motivation for my trip. Of course, I was *completely* focused and hit the ground running: using the few days that we had available to finish the video script and tape the narration. One evening, along the Thai-Burmese border, Ben came into my room and asked me point blank if I was interested in Anne. The first thought that came to mind was, "Lie!" but instead I said, "Yeah…I am. Is it that obvious?" His smile assured me that it was. "Do you think Anne knows?" was his next question. I responded with, "No…I don't think she… um, yeah – she must know." Duh, what was I thinking? Anne is a bright girl and must have known of my interest for some time now. Suddenly it dawned upon me that my "secret evaluation tactics" had failed, and the situation had become serious. I had better figure out the next step in our friendship, and quickly.
I had come on this trip asking the Lord to give some clear details for future ministry. Not only did he give me clear direction in that area, but it became quite obvious that Anne was the perfect complement to this plan of action. Not wanting to be swayed by the excitement of the moment, I quietly spoke with my two missionary friends about Anne and then took these thoughts back to my Pastor. He gave some wise counsel on how to move from a casual friendship to a "get to know you" stage, with the purpose of seeing if Anne and I were suitable for marriage. I'm so grateful for his care and instruction, as well as the new preaching series on Biblical principles for getting to the marriage altar. =) It was all very helpful, and I was grateful that those who knew about our situation kept things quiet so that we could move toward commitment without any extra pressure from the excitement of friends.
Now, you have to understand that although Anne and I had known each other for over 3 years, I didn't know her family at all. That was the big unknown factor: how would I get along with them, and how would her Dad respond to my desire to pursue marriage? Well, the only way to know was to ask. After compiling my "Getting to Know Anne profile," for my family, and receiving Dad and Mom's permission to proceed, I took the matter to Mr. Hammond. I asked if Anne and I could talk with each other directly, for the purpose of seeing if we were compatible for marriage, and he said, "Yes!" Well, I didn't waste any time, but dropped off a book of questions for Anne and I to discuss over the phone. Then I phoned Anne to let her know what I had set in motion. Guess what? She wasn't taken by surprise. =) LOL, actually, I knew that…I just wanted to make sure that I followed the right order of events.
So, we set off on a mission to ask the most important questions we could without getting our emotions involved (Yes, I can see those smiles). We soon learned that was impossible, so we did our best to stick to subjects that would be 'deal breakers' and tried to limit our conversations and interaction to a few phone calls per week. At the same time, I was trying to interact with her family and discuss things with my family, so that they would both be up to speed with our discussions. Anne and I wanted to move toward commitment as soon as possible, so that we didn't have to stay in the awkward middle-land of close friendship/courtship any longer than we had to. Finally, after much prayer, many phone calls, and seeking counsel of my pastor and parents, I was confident that I should move forward with the proposal. I received the final permission from her Dad and set out for the most difficult task yet – surprising Anne. =)
From Her Perspective: Part 3

I definitely didn't wake up Tuesday October 20th with thoughts of engagement in my mind. In fact, my plans for the morning included saying good-bye to Rachel and her family and helping out a friend with a church project. I was also planning on walking with another friend in the afternoon, so since I finished the church project a little early I called my friend up and asked if we could move our walking time up from 2 to noon. I was so surprised when my friend very adamantly said "NO!" since she doesn't have an adamant bone in her body:). I thought that was weird, but I didn't press the issue and figured we would just go walking at 2. I found some "busy work" to keep me occupied for another hour, but I was really starting to get bored so I said good-bye to the friend at church and kind of wandered aimlessly for a while, waiting for the all-important hour of 2 o'clock!
I did notice when I left church that Nat's car was missing, and I thought that was a bit strange since he always works until 5. I didn't really think anything more about it though and just headed over to my friend's house – early! When I got to her house, my friend said her teen daughter was going to go walking with us, but she was napping at the moment, so we chatted while waiting for her to wake up.
Since it was such a gorgeous afternoon, my friend suggested playing volleyball that night and of course I jumped at the opportunity:). We decided to ask another friend and her husband to join us, so I quick e-mailed our other friend so she could respond while we were out walking. Once I e-mailed our friend, I happened to notice Ben was on chat so I asked him quickly if Nat was there with him. Ben took forever to respond to me (now I know why!) and when he finally did respond, he said he sure hoped Nat wasn't there with him since he was at home:).
I found out later that after I chatted with Ben, he texted Nat and warned Nat I was looking for him. I guess Nat and Ben thought I knew something was up, but I really was blissfully ignorant and it just appeared like I knew something:).
My friend, her kids, and I headed in the direction of the Lehigh Parkway, one of my favorite parks at which to go walking. Since my friend's daughter was with us, that added a new dimension to our usual walking pattern. I am a fast walker, but apparently I was a little too fast for my friend's daughter because she kept slowing down or texting on her phone while telling us to "wait up." I just laughed and kept right on walking:).
As we rounded a particular bend on the trail, I glanced up a hill and saw a stunning display of fall beauty in the form of four trees. I exclaimed to my friend, "Wow. Look at those trees!" and as I said that, I saw Nat walking down the hill:). I was all, "Oh hey! How are you?" and I was thinking it was so coincidental that Nat happened to be out for a stroll while we were walking. He had told me once that he had never been to the Parkway before, so I thought this was the day he chose to explore the Parkway.
I definitely wasn't thinking Nat was there for me or had planned this whole thing out and I even said to my friend's daughter, "Wouldn't it be fun to roll down the hill?!?" We were both ready to charge up the hill when my friend firmly grabbed my arm and held me back. I couldn't figure out why and even said to her, "party pooper!" My friend didn't say anything but just continued walking with her kids. I didn't mind since I liked being with Nat:).
As the others walked away, Nat pulled a dozen roses out and said they were for me. It kind of dawned on me then that this wasn't "coincidental" and I even asked Nat, "Did Paula know about this?" He said yes and I was thinking that it was very sweet of him to surprise me at the park with a dozen roses. Still no clue that engagement was in my immediate future:).
We continued walking along all the while talking about small things. Nat asked if we could slow down and I thought that was funny because something seemed different but I just couldn't put my finger on it. I figured Nat would tell me in his own good time:). He suddenly said, "Let's turn around and go back to that tree we passed" and it was at that moment that I wondered if he had something hidden at that specific tree. We turned around and went back to the tree when Nat started talking about our relationship. Once he dropped to his knee, my thought was, "Oh my goodness… he's going to propose!" He then pulled the ring out and asked me if I would marry him… of course I said yes:).
My practical side kicked in right away and I commented that I didn't even know my ring size – neither did he for the record, but that was ok:). We decided to walk back to my friend and her kids and as we did, I was still in a bit of shock that he had actually proposed! My friend couldn't wait to rub it in my face that she knew before I did and got to have a part in the whole plan:).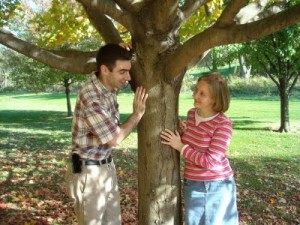 We decided to go back to "our" tree to have some pictures taken, which was very nice:). Nat was able to send out an e-mail to our Pastor and some close friends telling them of our engagement. We came back to my parents' house and told my mom about our engagement and then headed out to Olive Garden for dinner:).
It was such a precious and sweet afternoon. Down to the last detail, Nat did a fantastic job in surprising me! I'm so very thankful to the Lord for the wonderful and godly man HE has brought into my life. I am completely undeserving of having the Lord bless me in this way, but I'm so grateful for His moving and working in our lives.
I do want to share one more thing. Several years ago, the Lord gave me a special verse from Ruth 3:18 ~ "Sit still, my daughter, until thou know how the matter will fall: for the man will not be in rest, until he have finished the thing this day." I'm glad I can look back now and see that the sitting still part on my end has been worth it all! If you're interested, here's a link to a blog I started 2.5 years to journal some thoughts I had on singleness: For Such A Time As This.
All I can say is God has been so good to me!
From His Perspective: Part 3

The day of our engagement was a blur of activity. Anne had mentioned that she had only been truly surprised one time in her life, so I was going to do my best to intersect with her plans for the day, in a way that she would not expect. Knowing of Anne's fondness for walking with a special friend, I ask that friend if she could help me out by scheduling a walking date sometime that week. Her friend did a great job and responded with a confirmed walk on Tuesday, Oct. 20th. "Perfect!" I thought. "She'll never be expecting me to show up on the busiest day of my schedule." But, it was not to be that easy. First of all, my Pastor and his family were leaving for Botswana that morning and after seeing them off, Anne decided to stick around the church and help out. So, I had to sneak out without Anne finding out where I was heading. Fortunately for me, I have friends in strategic places. Not only did Kristen run interference for me at the front desk, but my good buddy Ben was quick on the Instant Messaging defense when Anne asked where I was. Not sure how much she knew, I just slid back further into the hiding place and waited.
My plan was working perfectly, until Anne called on the phone. "Uh-oh…there goes my cover," I thought, but I made sure to not give any specifics about where I was, even though you could hear the birds chirping in the trees. =) I must smile at how us guys get all bent out of shape over the surprise aspect of the engagement. Anyway, it all worked out in the end, just a little differently than I had imagined.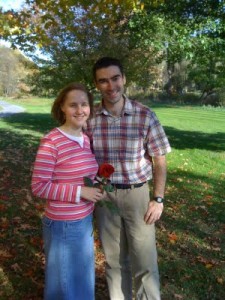 I carefully stuffed a dozen roses into my backpack and waited outside of view, along the side of the walking path. As Anne approached, I simply walked down the hill toward her, and expertly dumped a vase of water into my backpack as I handed her a dozen roses. (Note to self: long-stem roses should be trimmed before you put them in a vase ;-). Oh well, but hey, she was actually surprised and I think we both were in shock that this was actually happening. I know I was, because I kept going 'round in circles trying to explain how I felt the Lord had led us together. I finally broke out of my nervousness and got down to that all important question: "Anne, will you marry me?" She thrilled me by saying "yes" and I gave her something shiny to seal the deal. =)
Although it would be easy to end with some cliche like "the rest is history," I would point out two important facts: 1) God is the only one who can receive glory from bringing Anne and I together. He has been faithful to work things out despite our failures and inconsistencies. 2) Unless the Lord build the house, they labor in vain to build it. It has been such a blessing to hear of all that have prayed for this relationship to come together, and we would ask you to keep it up. What a special joy it has been for Anne and I to swap notes over the past two months of engagement and to see all that God has built into our lives to bring us to this point in time. With only 6 months to go until the wedding (July 10, 2010), we rejoice in God's goodness, and are excited about all that God is preparing for our future together. I love you Anne!