When I was given Saturday as my "day-in-the-life" to write about, I thought it would be easy. Saturdays generally follow a fairly simple pattern: chores, breakfast, housecleaning…but ever since Saturday became my day to write about, they have all been out of the ordinary. I haven't had a typical Saturday for the last eight weeks! So here's a glimpse at one summer (read "crazy") Saturday at the Castleberry farm…
7 am: The radio alarm clock goes off in the girls' bedroom. I share a room with my sisters and can't imagine it any other way, but mornings are a little funny. For some reason, none of us speak to each other as we get up and prepare for the day. Silence reigns until we get downstairs, and if anyone happens to say something, she is met with incredulous looks. One would think we had taken a vow of silence.
But I digress. We love our radio alarm because we wake up to something different each morning. Today was "Motions" by Matthew West, and the words keep going through my head as I go downstairs to read my Bible: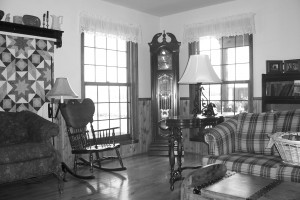 "I don't want to go through the motions
I don't want to go one more day
Without Your all-consuming
Passion inside of me…"
It's a good song to have in your mind. I'm reading through the New Testament right now, and today's chapter is I Corinthians 8. While it can be a challenge to be awake enough to really grasp what I'm reading, I've found that unless I make my Bible reading the first thing I do in the morning, I tend to forget to read at all. The day just gets busy so fast. I treasure this time in God's word as the day begins.
We generally do our barn chores before breakfast. Today Betsy and I are on milking duty while Katie prepares scrambled eggs, homemade sausage, and hot chocolate for breakfast. I love going to the barn in the morning and working with the animals — I'm such a country girl! Sunshine, our lovely Jersey cow, is giving lots of milk this year (5-6 gallons per day), so we've been making a lot of cheese and butter. The boys take care of the meat chickens, beef cattle,  and laying hens. When the chores are done we gather for breakfast with good appetites.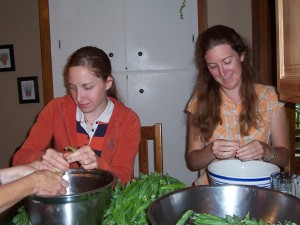 Summer means church league softball around here, and this particular Saturday is the end of softball season: tournaments! Since it's threatening rain, only the older boys head into town (30 minutes away) for the 9:00 game.  We girls stay home and pick second-crop peas. The garden has been a real challenge this summer — it's been both cool and dry, so our yields are definitely lower than usual. We're thankful for whatever we get, though. The guys call while we're shelling peas. The opposing team didn't show up, so we won by default. Next game will be at 1:30, so they are coming home for lunch.
Since we knew we'd be attending the tournaments today, we did our house cleaning yesterday. We divide the work into three main jobs — bathrooms, dusting, and floors (we love a dry Swiffer® for the hardwood floors!), then each girl takes one job. I must confess I don't much care for the bathroom cleaning job, but it's something that can be done to the glory of God if I have the right attitude.
So, with the housecleaning out of the way, the peas done, and a little extra time before lunch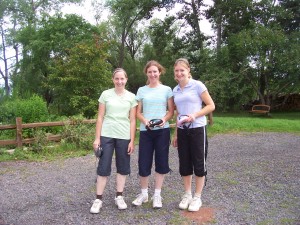 , what would most busy farm girls do? Get a little high-speed exercise! Okay, maybe not most.  But this summer my sisters and I have been running about three times a week. We aren't marathoners, and we only run about 2.5 to 3 miles (usually around the hayfield — told you we are farm girls!), but we've really enjoyed it. We run at the same time, but often in different directions or on different trails, and we listen to music as we run. It is a real worship time for me. My favorite running music is Third Day's Wherever You Are CD. It's full of upbeat and energetic songs, which is important for keeping me motivated while running!
After running (and showers), we join the family for lunch. We typically have leftovers or sandwiches at our noon meal. Today we're hurried, trying to finish the dishes and noon barn chores before it's time to head to the tournaments.  There's a special surprise for the softball team that we made last night — a cake in the team colors that says "Lakeside Softball: Great Year!" It has been a good year, fun to watch and fun for the guys who went into the tournaments at the top of our division.
We don't do as well in the tournaments as in the rest of the season, unfortunately, but it's still fun to watch our friends, neighbors, and brothers play. The wind picks up, blowing in some pretty dark clouds and occasional rain shower. Good thing we brought umbrellas! We win one game and lose two, ending our season on a bit of a sad note, but thankfully we serve the cake right after the winning game.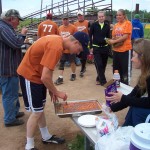 Dad brings pizza for us and the other fans (this is definitely not typical, but just as definitely appreciated!), so that takes care of supper.  It's time to head home and do the barn chores one more time. Sunshine the cow is waiting to be milked, the chickens need to be secured in the safe barn for the night (yes, there are many predators who would like nothing better than a tasty chicken dinner!), and the cows are nearly out of water.
Regardless of the busyness of the day, we always end it the same way: the whole family gathers in the living room and together we read a chapter of Scripture aloud. We practice a few memory verses. We share prayer requests. And then we "come boldly unto the throne of grace" and let our "requests be made known unto God."
And that…is one Saturday at Castleberry Farms. Come join us sometime!
The rest of the week…