If you are a woman, whether you are married or single and whether or not you have physical children, there is a maternal spirit within your very nature. That maternal spirit has been given you by God Himself and is an essential part of His plan for reproducing His heart in the next generation.

– Dorothy Kelley Patterson, p.153, Becoming God's True Woman, edited by Nancy Leigh DeMoss

God knew I'd be single for most of my twenties at least.  Why did He make me a motherly woman and give me a desire to be a mother — to be a bearer and nurturer of life — now? Perhaps the answer is that the desire to be a mother is one of the most natural desires a woman can have. God doesn't make mistakes and He must have a plan for the desire — a plan for even the most motherly of single women. Perhaps the plan is bigger than we dream!
"Shout for joy, O barren one, you who have borne no child;
Break forth into joyful shouting and cry aloud, you who have not travailed;
For the sons of the desolate one will be more numerous
Than the sons of the married woman," says the Lord.
The pain of a single woman longing for children is different from the pain of a married woman longing for children. They share, however, a longing for children. A desire for motherhood. A vision for nurturing the hearts of the next generation. And perhaps, while we wait for some children of our own, we can share a passion for spiritually mothering the children in our lives today, too. Maybe our longing for children won't be fulfilled by spending time with other people's children. But perhaps our longing can inspire and motivate us — when the pain of waiting might otherwise discourage us — to love and give to and spend time with the next generation now.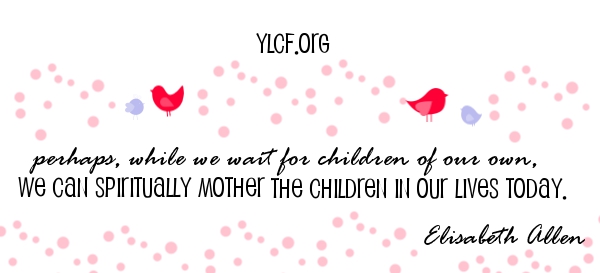 Investing in the children in our families and friends' families.
Brothers and sisters. Nieces and nephews. Cousins. Pray for them and their families. Pin their pictures on your wall and know their faces. Spend time with them — playing games and reading stories. Be a fun person to play with and a safe person to share secrets and tell stories to. Listen to their words and their hearts. Accept their presents. And give them presents too!
Invest in the lives of the children or the teenagers in our spiritual families.
Get involved in the children's or teenager's ministry in your local church. Perhaps you can lead (or help to lead) a class for little children or a study for older girls. Pray for them and their families. Be accessible. Be fun. And be godly, too! Let them see the love of God in your eyes and the fruit of the spirit in your life and want to be like you someday.
Invest in the lives of teenage girls and young women.
So many of them long for mentors — and, even, for mothers. Be a "big sister" to a young girl you know. Write letters. Share Scriptures. Pray for her and encourage her in her faith or her search for faith. Model godly, passionate womanhood for her in an accessible, vulnerable way. Let her know that you care for her and want her to be the woman God has created and called her to be.
Do you have any ideas and suggestions for investing in the lives of the next generation?  Here are a few resources: