It was my second trip to Colonial Williamsburg, and I felt as if I couldn't soak in enough. I love the place, everything about it,  but most of all, it is the History I love.  It would take a life time to see it all, and the rolling farmland so full of history captured my heart.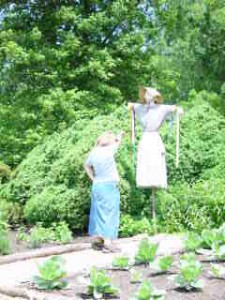 Colonial Williamsburg, though, is something special. I could never get tired of it, I don't think.  A lot went on her during the forming of our Country.  We stepped back into the year 1774, and life in some parts of the town, carried on as it did, except of course for the multitudes of visitors, who like us, had come to learn and experience and enjoy the old town and the past it presented.
My brother got chosen to be on the jury of the old court cases, we wandered through gardens, admiring the tidy rows and discovering plants we'd never seen growing before (Okra for one!)  and laughed at a random scarecrow who wore a straw sunbonnet and a dress.?
We got to watch the "Militia" march, and listen to the Fife and Drum Concert. When we went into the post office, I wished I had a letter to mail, but I'd left them all in the van and decided I'd just have to remember next time.
We went through so many little shops, and  I even got to play a little on one of the harpsichords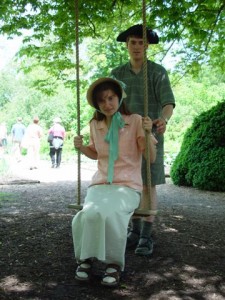 that they make there.  I didn't make it out of the town, either, without one of those beautiful straw bonnets, complete with bows and ribbons and a 'hat pin' that they sell there. Mom and Dad kindly paid part- for an early birthday present, and I carried it in my hand and guarded it the entire rest of the two and a half weeks we were driving around the states.
I even convinced my brother to buy a three cornered hat, and my sister, who thought the hats were quite silly, decided to buy a fife instead. It was a day that will long be etched into my mind, a happy day of new memories, mixed with a deepened love of our history, and this land that I am blessed to live in- for it's heritage, if nothing else.
As we walked down the streets, I couldn't help but think of those who had gone before- George Washington walked these streets, as did Thomas Jefferson, Patrick Henry, Peyton Randolph, and even Marquis de Lafayette and George Wythe.
But perhaps it was Patrick Henry, "re-living" through one of the re-enactors, who stood up and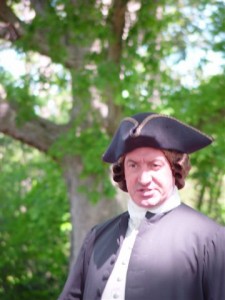 gave a speech that made all the many volumes of books I'd read on Patrick's life and manners come to life before me, that captured my attention the most that first day. I think I could have stayed for hours to listen to the most 'alive' history lesson I'd ever had.
But all things come to an end, and when I left it was reluctantly indeed, for there was so much more I wanted to know, so much more to experience and so much more to see. Who knows if I shall ever have a chance to return just one more time, though I dream of it often.  I'd go back in a flash if I ever could!  I'm thankful, so thankful for the two happy days that I was blessed to spend wandering the streets of such a beautiful place, and to catch a little vision of what the lives of those great men, and those every day people of our past was like. It made my heart feel some sort of kinship with the past- for though our lives today are so very different from theirs in many ways, there are those ties of commonality, of hopes and dreams, of heartache and joy that every human being shares, and I will not forget my glimpse into their lives- both the "good" and the "bad" who made our history what it is.
Yet-if time should last, some 200 years from now, what would those who come after us see? I doubt they'd read -or even write- volumes on any one of our lives, unlike those who lived and worked in Williamsburg, but as Mr. Franklin said, just in case, perhaps we'd better be careful: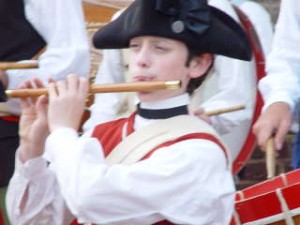 "If you would not be forgotten as soon as you are dead and rotten, either write something worth reading or do things worth the writing." —Benjamin Franklin
Pretty good advice this, don't you think? Not for the sake of being remembered alone, for I don't know that any of those great men particularly thought that 200 and some years from now we'd still be reading and remembering them as we do, they simply lived and struggled for what they believed and understood to be right and best for their country, and for their families. So we should live, and write and work – not for our own honor but to honor Him who gives us life, and no matter what should happen, or who should look at what we've left behind, or who should read what we have written hereafter, they will find a life well lived and words worth reading after all.