I remember when I first read Rachel Jankovic's debut book, Loving the Little Years.  The feeling of relief and encouragement was profound.  Finally!   Here was a parenting book author who understood where I was coming from.  At that point, I had two little ones under the age of two and it seemed like all the parenting books I had read until then were directed toward parents with older kids.  I mean, it's all fine and good to learn about how to effectively listen to and talk to your children, but that can only go so far when your oldest isn't even stringing words together yet!  But in Loving the Little Years, written when Rachel had five children ages five and under, she knew what that was like.
My initial good experience with Rachel's writings only continued over the last several years as I eagerly read anything that she blogged.  She got it.  She knew the hard parts of being surrounded by littles always demanding your attention, but she also embraced the humor in those times as well.  She knew how draining the constancy of mothering tinies can be, but she also fully recognized that amazing joy it brings as well.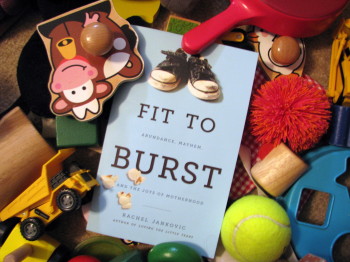 This "getting it" is what made me so excited when I saw that Rachel was writing another book on mothering — this one called Fit to Burst: Abundance, Mayhem and the Joys of Motherhood.  I wrote and asked Canon Press about getting a review copy and they graciously sent me one along with a copy to give away to another young mom.
Now with six kids eight and under, Rachel's parenting has had to move beyond the very little years and that quickly becomes apparent in her new book.  The book tackles some serious issues, but always with Rachel's characteristic humor and with the long-term perspective in mind.  Like Loving the Little Years, this sequel reads more like a blog with a laid-back writing style and short chapters.  But for a mom of busy toddlers who can't often sit and read for prolonged periods of time, I greatly appreciated that aspect of both Rachel's books.
One of the weightier topics addressed in Fit to Burst is that of how a mom influences her kids' relationship with their dad.  In one six-page chapter, Rachel doesn't hold anything back and handles the issue more articulately than anyone I've ever read before.  I read that chapter aloud to my husband and we both were very impressed with how she addressed the subject.
As in her first book, Rachel doesn't focus on all the different things we can do to make our children behave better and therefore make ourselves look like better mothers.  She instead zeroes in on attitudes and mindsets in ourselves that we need to submit to Jesus, and in doing so become better parents.  While she understands all the difficulties that come with being a mother, this book doesn't condone wallowing in those hard things.  Instead we're encouraged to embrace those difficulties and recognize them for what they are — things that help to sanctify us and make us more like Jesus.  And with being made like Jesus, we can help to point our children to Him as well.
Giveaway
We have a copy of Fit to Burst: Abundance, Mayhem, and the Joy of Motherhood by Rachel Jankovic (provided by Canon Press) that we'd love to give away to a mom in need of some encouragement.  Just leave a comment telling us one of the joys of motherhood you've recently experienced. A winner will be drawn Monday, March 18.  This giveaway is now closed.  Congratulations to Jessiqua for winning!